America's longest continuously-published and highest weekly circulation LGBTQ newspaper will celebrate its historic 50th anniversary edition to be published on April 1. Advertising space reservations for this special issue are now being accepted.
Viewing 1 thru 12 of 757 Stories
Last month, I asked my representative on the Board of Supervisors, Dean Preston, to make it easier to build new housing in our city.
On February 9, the 25th anniversary of my first date with my husband, the San Francisco Board of Education considered my nomination to join the volunteer Parent Advisory Council.
When I was a little girl, there was no Black History Month.
I had to create my mirror and now it is an international reflection as a Black disabled person.
To say I held my bated breath until it was clear that "Uncle Joe" had won would be the understatement of a century. Or two. Add in "Auntie" Kamala and my gay self has been in an election coma ever since.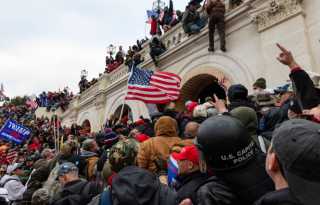 Thousands of Trump supporters swarmed the U.S. Capitol on Wednesday, January 6, to commit seditious acts that were motivated by ignorance and white supremacy, which obviously go hand in hand.
It is no secret that many hospital emergency departments are struggling.
From 2010 to 2020, the world fêted San Francisco. New startups, new graduates, new immigrants — all wanted to share in its glittering promise.
This is a good year for Christmas. We need the joy, the light, hope, the gifts, the promise, the peace. All of it.
In 2015, my first year in the Legislature, working alongside Equality California, I introduced Assembly Bill 959, the LGBT Disparities Reduction Act.
As we observe another World AIDS Day December 1, I wish I could believe a cure was in sight but unfortunately I cannot.
For the first World AIDS Day on December 1, 1988 the World Health Organization gave a small grant to the fledgling Names Project (its AIDS Memorial Quilt being then a little more than a year old).
Viewing 1 thru 12 of 757 Stories