Longtime lesbian activist and educator Sally Miller Gearhart now needs 24-hour care and friends have set up a crowdfunding page to accept donations.
If you're a get-off-my-lawn curmudgeon like me, your first impression when hearing Olympic figure skater Adam Rippon chatter, throw shade, and coyly chuckle just might be that he's a lightweight with not much to offer — but man, what a mistake.
Attention: Cannabis shoppers.
Over the past year, there has been a lot of public debate on able-bodied actors playing characters with disabilities.
CA leaders are pushing legislation aimed at boosting insurance companies' contracts with LGBT-owned firms. It comes as lawmakers are also seeking to increase hospital contracts for such businesses.
A Philadelphia lawyer is aiming to make LGBT political history this year by becoming the country's first elected transgender male judge.
Members of the New IRA apologized for last week's killing of prominent lesbian journalist Lyra McKee by one of its volunteer members in a statement to the media Tuesday.
The 2018 Gay Games in Paris were not merely successful at pulling in enough participants to create strong tournaments in virtually every sport. Gay Games X became the first Gay Games held outside of the United States to turn a profit.
San Francisco will hold a solidarity concert for Notre Dame Cathedral Monday, April 29, at 6 p.m. at Grace Cathedral, 1100 California Street.
So often when people who are not transgender speak of transgender people, there is one important thing they get terribly wrong, and I think it's a core part of understanding exactly what it is to be transgender.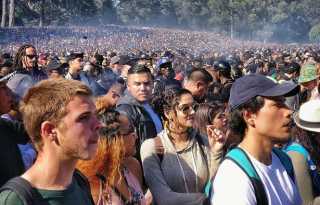 This is a special edition of the Bay Area Reporter's cannabis column and celebrates all things 4/20.
The black and white photo, at first glance, could be of any sharply dressed couple. The woman is adorned in her Sunday best and the gentleman sports a pinstripe suit.