A series of events and marches will take place next week centered around celebrating the late gay Supervisor Harvey Milk, whose election in 1977 marked the first time an out LGBT person won a public office in San Francisco and the state of California.
Global transgender model and activist Geena Rocero charmed the audience at the sold-out 30th annual Professional BusinessWomen of California's conference last month.
The Bears of San Francisco, a group for hirsute men and their admirers, turns 25 this year and will be celebrating Sunday, May 19.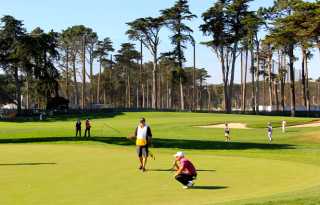 The inaugural San Francisco Pride Pro-Am Golf Tournament will take place Wednesday, June 26, at 1 p.m. at TPC Harding Park in the city.
The decision allowing international track and field to bar a few female athletes of color from women's competition because their natural testosterone levels are higher than most women's is barely three weeks old, and already we are seeing fallout and back
A spate of recent headlines must make one wonder if the "alphabet soup" movement that has led us to LGBTTIQQ2SA — lesbian, gay, bisexual, transsexual, transgender, intersex, queer, questioning, two spirit, and allies — has finally seen its day.
The obituary for Patrick Michael Eaton, aka Myrna.
The obituary for Gary McDowell.
Bay Area Reporter Jock Talk columnist Roger Brigham, left, joined Federation of Gay Games marketing director Doug Litwin, Golden Gate Wrestling Club president Gene Dermody, and filmmaker Elisabeth Bartlett at a local screening of "Light in the Water."
This week's editorial cartoon.
A newly released autopsy report on the death of a gay man, Brian Egg, whose decomposed torso was found in a fish tank in his South of Market home over the summer, reveals his cause of death was "unspecified homicidal violence with blunt force trauma."
A groundbreaking report has found that the majority of California's school districts are failing LGBT students.