Farrow tells all in book exposing serial abusers
Wednesday Oct 23, 2019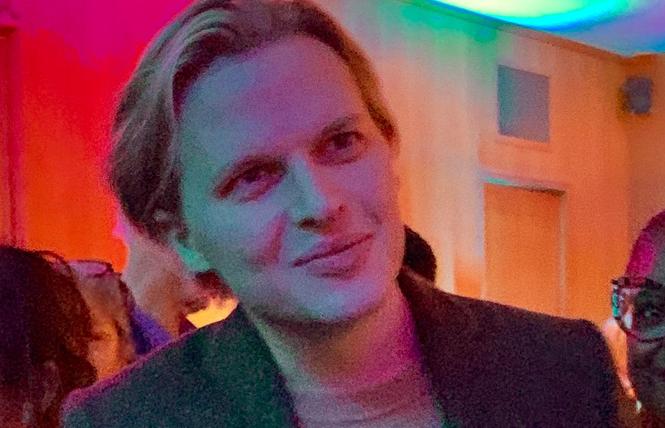 Gay investigative journalist Ronan Farrow, whose new book about serial abusers is flying off the shelves, told the Bay Area Reporter Monday that independent reporters are more important than ever.
Farrow was in San Francisco Monday, October 21, for an appearance promoting "Catch and Kill: Lies, Spies, and a Conspiracy to Protect Predators."
The book, Farrow said in an interview prior to the event, is "a love letter to fellow reporters" who, along with whistleblowers, have shown "courage and persistence" in fighting corruption.
"We need independent journalists," he said.
Farrow, who recently won a Pulitzer Prize for pubic service for his New Yorker articles alleging sexual misconduct by powerful Hollywood producer Harvey Weinstein, grew up hearing his sister Dylan's accusations of sexual abuse by her stepfather, Woody Allen.
Farrow, 31, the child of Allen and his former longtime partner Mia Farrow, is touring the country to promote "Catch and Kill," which expands on his magazine work to discuss the pattern of powerful men, who, like Weinstein, have been trying to silence the women who've come forward with allegations of abuse.
The book also takes a devastating look at NBC News, which killed Farrow's Weinstein project, leading him to take it to the New Yorker. Five days before it was published, a pair of New York Times reporters broke open the Weinstein story on that paper's front page. Farrow shared his Pulitzer with Times reporters Jodi Kantor and Megan Twohey.
"Catch and Kill," published October 18 and already in its third printing, details accusations of cover-ups of many allegations against prominent men, including several who worked with Farrow at NBC, where Farrow was an investigative reporter and, for a year, had his own daily program on MSNBC. All those accused have denied Farrow's accusations.
The book takes its title from a practice used by tabloids whereby they prevent, usually by payment, an individual from publicly revealing information damaging to a third party.
Monday's San Francisco event was a conversation with Mother Jones editor-in-chief Clara Jeffery, held at the Calvary Presbyterian Church and co-sponsored by Book Passage and the Curran Theatre.
In his interview with the B.A.R., Farrow discussed the book as well as other highlights of his busy life, including his recent engagement to Jonathan (Jon) Lovett, 37, a former Obama speechwriter and creator of the NBC sitcom, "1600 Penn." Lovett also was a founder of Crooked Media, which hosts 10 podcasts, including "Pod Save America."
Farrow spent two years researching and writing the 448-page book, published by Little, Brown and Company. In the midst of his exhausting work, "meticulously checking every fact," Farrow took time off to fly to the United Kingdom, where he was awarded a Ph.D. in political science from Oxford University, where he had been a Rhodes scholar, he said.
"It's been busy," he added.
Busy indeed. Farrow is also a graduate of Yale Law School (and a member of the bar in New York, where he lives) and before his career in journalism, served as a State Department official in Afghanistan and Pakistan. He's also the author of the New York Times bestseller, "War on Peace: The End of Diplomacy and the Decline of American Influence." He is currently a contributing writer for the New Yorker, where he broke a story last month on MIT Media Labs financial ties to the late convicted sex offender Jeffrey Epstein. Farrow also recently signed a deal with Home Box Office to produce documentaries, he said.
Dark, yet optimistic
Although much of the new book is "very dark," Farrow said it is ultimately an "optimistic" story of "women who risked everything to expose the truth and spark a global movement" protesting abusive treatment of women.
The book details Farrow's two-year journey researching and writing it, including what he called the "tactics of surveillance and intimidation" deployed by wealthy and connected men to "threaten journalists and silence victims of abuse." During his investigation, Farrow said he was followed by private investigators hired by Weinstein.
The Weinstein story began when Farrow was working as an investigative journalist for NBC News, when he first heard the allegations of abuse from Hollywood actresses, who claimed Weinstein had sexually assaulted them. Farrow slowly gained the confidence of a handful of them, and compiled a package of evidence that he hoped would be broadcast on the network. But the brass at NBC repeatedly turned down his pitches and suggested he "just forget about" the topic, giving a variety of explanations why it wasn't a "good story" to broadcast, he said.
"It was pretty clear to me early on" that the negative response of many NBC editors and executives must have had had a broader explanation, he said, since he had presented a meticulously researched proposal with a number of women willing to go public with their stories.
"It was devastating," said Farrow, "to be sitting on evidence of crimes and know that people were getting hurt" and be told his employer was not interested in the story.
"It was a huge burden," he said, to have taped confessions that might never be aired.
Convinced NBC was not about to change its mind, Farrow said, "I went across the street" to the New Yorker with the story, where editors greeted him with open arms. On October 10, 2017, the magazine published the first story online. (It ran in the October 23 print edition.) The first Times story was published October 5, 2017.
Farrow left the network, but not before realizing that its dismissal of the story might involve accusations against a handful of NBC big shots, including former "Today Show" host Matt Lauer, who was later fired for inappropriate sexual behavior in the workplace.
Lauer and the network have both denied a claim of rape that is in Farrow's book. Farrow also uncovered evidence that the network has made financial settlements with a number of the women who filed complaints, although the network continues to deny that the payments were part of a cover-up.
The story gained momentum as both the New Yorker and the Times broke a series of articles detailing accusations by dozens of women who claim to have been victims of powerful men in the entertainment industry who went to great lengths to both silence the women as well as the journalists trying to tell their stories.
Farrow and the Times reporters — Kantor and Twohey — landed book contracts, each taking different approaches to tell the stories the helped form the backbone of the #MeToo and #TimesUp movements building across the country. Kantor and Twohey's book, "She Said: Breaking the Sexual Harassment Story That Helped Ignite a Movement," was published last month.
As far as his engagement to Lovett, Farrow said that the couple "hasn't set a date," noting that both men have "hectic schedules."
As for future stories, Farrow said that he hopes to continue to have "brave sources" who will come forward to trust him with their stories. He's open to covering additional stories about the abuse of power by powerful men "if they can expand the conversation" on the topic.
"Of course I would take a look at" any tips that came his way, "and be sure that if I was unable to work on the story, I'd be sure it got into the hands of other reporters," he said.
During his onstage conversation with Jeffery both shared a number of juicy nuggets with the enthusiastic audience, which gave the two a standing ovation at the beginning and end of the presentation:
— When Farrow described NBC's many excuses for refusing to broadcast his meticulously researched story on women abused by Weinstein, Jeffrey said the network's excuses were "a lot of bullshit."
— When Farrow's NBC producer working with him on the story "wouldn't stop speaking up" about the importance of covering the topic, the producer lost his job. Network executives had "ordered him to cancel interviews with rape victims," Farrow said.
— In explaining their reasoning for not broadcasting the story, an NBC executive told Farrow that "it's sometimes better to let others go first" in breaking stories, a laughable concept in the competitive field of journalism.
— The New Yorker, a "much smaller" company than NBC, retained an attorney to represent Farrow when the journalist was threatened with lawsuits by Weinstein. "They pulled out all the stops to go into battle for a tough story," he said.
— Farrow discovered that NBC had hired a Wikipedia "scrubber" to whitewash the online profiles of its executives. "To this day, Wikipedia is stripped of references" about the controversy, he said.
— Writing the book offered a number of lessons to Farrow. One, he said, is about the "fragility" of the news business. "Thank God we have outlets willing to go into battle," he said.