Life's a beach in Laguna and on Catalina Island
Wednesday Sep 25, 2019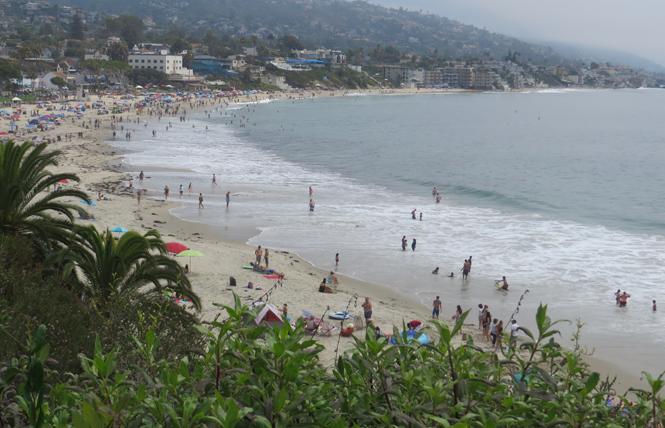 Play on a warm beach. Dive into the Pacific without a wetsuit. Explore an exotic and mostly uninhabited island without flying to Hawaii. My husband and I did all that and more on a Southern California road trip.

The beach is Laguna
We drove down Highway 5 very early on a Saturday in late August, and checked into the Laguna Brisas Hotel in Laguna Beach (https://www.lagunabrisashotel.com), doubles from $149 plus taxes and "resort fees"). The hotel fronts what locals call PCH, otherwise known as the Pacific Coast Highway. Cross PCH, take a short path around the oceanfront hotel and down some wooden steps, and you're on the sand.

To warm up for an ocean swim, we jumped into the small hotel pool. The air temperature was a perfect 80 degrees and the pool was only a few degrees cooler. "Surf City" by the Beach Boys played quietly on the PA system as tension from the drive melted away.

PCH becomes a parking lot on summer days, but Laguna Beach has a free trolley system, so we never moved our car. The trolley's an open-air ride so slow traffic just enhances the people-watching.

You won't have the beaches to yourself, but with temperatures in the high 80s the water was refreshing and not cold. Most Laguna beaches are small coves separated by rocks. There are some strong undertows, but many beaches have lifeguards. Popular Woods Cove Beach is closest to Laguna Brisas, but the trolley also reaches the larger, gay-popular West Street Beach in South Laguna.

In easy walking distance is Laguna's only, but very visible, gay bar, the Main Street Bar (https://www.mainstreet-bar.com/). On a Saturday night, it was fairly lively with a small but popular dance floor with a mix of people enjoying themselves.

Just next door is the Selanne Steak Tavern (https://www.selannesteaktavern.com/), recommended by a SoCal friend as the best in Laguna. It's more than a steakhouse and we ordered a very fresh salmon entrée, but plan on spending $200-plus for two with wine.

The meal started with a delicious amuse-bouche of Poblano Pepper soup with a dollop of Crème Fraiche, garnished with tiny tortilla chip strips. Next we shared two salads: a Summer Melon salad with a gorgeous mélange of red and orange cherry tomatoes, red and yellow watermelon, and cucumber slices, topped with basil and a lemon yogurt emulsion; and a wedge salad with iceberg lettuce, bacon bits and bacon foam.

The Mac and Cheese side comes with Parmesan cheese foam, a sensual delight as the foam slowly deflates on your tongue. The small dessert menu includes a creative take on coffee & donuts. We sat in the wind-protected outdoor veranda under glowing Moroccan lamps painted white. Like almost every Laguna restaurant, dress is casual and many diners wore shorts.

Laguna has long been LGBTQ-friendly and we were delighted to read on the front page of the formerly very Republican Orange County Register the headline, "LGBTQ History isn't what you'd think." Since the early 1900s, Laguna has been called an "art colony" and has dozens of galleries.

We spent an hour at the modern, oceanfront Laguna Art Museum (https://lagunaartmuseum.org/), enjoying the works of California artist John Baldessari. One employee, who asked to remain anonymous, said the more serious commercial galleries were on PCH north of Broadway, starting with Sue Greenwood Fine Art (http://www.suegreenwoodfineart.com/).

For sauntering along Main Beach there's a small boardwalk and fans of print media will enjoy a rare newsstand at Ocean and PCH just across the street. The nearby visitor center has maps and very helpful staff. Pick up the Heritage Walking Companion, which illustrates two walking tours of historic Laguna bungalows and cottages, built as early as 1884.

The Greeter was a famous figure in Laguna history, a cheery man who waved to everyone who passed through town. At the southern end of Main Beach, Greeter's Corner Restaurant (https://www.thegreeterscorner.com/) is a decent spot for lunch (about $70 for two).

Much better, but more expensive, is Las Brisas (https://www.lasbrisaslagunabeach.com/), featuring "Foods of Mexico," on a cliff overlooking the entire Main Beach and the coast looking south. Filet (mignon) and Lobster Enchiladas were delicious: lobster without the work. Service was exceptional and just outside is beautiful Cliff Drive, a favorite route for an evening promenade.

No visit to Laguna is complete without seeing "where art comes to life" during the Pageant of the Masters at the Festival of Arts of Laguna Beach. Live models replicate (mostly) famous works of art.

Our confidential art adviser at the museum said his friends told him, "You have to go once. But only once!" Cynics (and spouses) might argue it transgresses into what John Waters calls "bad, bad taste," but one of us enjoyed the experience nonetheless.

The three-dozen tableaux vivant (living pictures) combined Vermeer's "The Music Lesson," five different Saturday Evening Post covers, and my personal favorite: the Mechanic's Monument on San Francisco's Market Street, a favorite prop for risqué photos during our LGBT Pride parade. Photography during the pageant is prohibited, but be sure to bring binoculars!

Last-minute tickets are offered at a deep discount on the official website (http://www.foapom.com) and includes admission to the adjacent Festival of the Arts.

There's far more to do in Laguna than time allowed. There's easy hiking in neighboring Willow Canyon, a monthly Art Walk, live theater and music at the Laguna Playhouse (http://www.lagunaplayhouse.com), and the Jazz International Summer Series at the Woman's Club. The free OC Weekly newspaper has other entertainment options.

Catalina is the island
You can see Catalina Island from Long Beach on a clear day, but in only 70 minutes the Catalina Express catamaran (http://www.catalinaexpress.com) transports visitors 26 miles out to sea to Catalina's only town, Avalon. Get tickets in advance as they often sell out in summer; reserve plenty of time to find the correct parking lot. Adult round-trip fares are $74.50; if the boat is crowded, it's worth paying $15 extra to upgrade to the Commodore Lounge.

William Wrigley Jr., of the chewing gum family, purchased nearly the entire island in 1919 and spent millions developing it as a tourist destination to give the locals employment. His most impressive structure is the Art Deco Catalina Casino, named using the Italian word meaning "a gathering place"; it never had gambling (https://www.visitcatalinaisland.com/things-to-do/catalina-casino/).

The 50-minute casino tour ($20) was fascinating and covered both the movie theater with its Art Deco murals, and the wooden dance floor on the upper level, surrounded by an outdoor terrace. Our tour guide emphasized the casino's Hollywood connections and noted that at the height of its popularity, the dance floor could accommodate 6,000 dancers.

Another Wrigley venture to create employment was the Catalina Clay Products operation. Production of the art pottery and tiles on Catalina ended in 1937, but vintage pieces are on exhibit in the small but interesting Catalina Museum (http://www.catalinamuseum.org) and on sale at the new Catalina Pottery store.

The Catalina Museum displays a spectacular Chihuly chandelier and a Catalina history exhibit that depicts the many Hollywood celebrities who visited the island. It even describes the mysterious drowning death of actress Natalie Wood in 1981 in Two Harbors, a small village in another part of Catalina reachable by public bus or boat.

We had lunch at the Lobster Trap (https://www.catalinalobstertrap.com/), a short stroll from the ferry terminal, because our favorite guidebook (Moon "Coastal California," 2016 edition) assured us it was popular with locals. A sign inside read, "No pissy attitudes" and we happily complied. Lunches of fresh lobster roll and local bluefin tuna sandwich were very good ($50 for two with wine).

Don't come to Catalina expecting fine dining. Our best meal in Avalon was at the waterfront Bluewater Grill (https://www.bluewatergrill.com/locations/catalina-island), which specializes in seafood, but the view easily surpassed the food in quality ($100 for two with wine). If you rent an apartment, however, the recently expanded Vons Market had prices and selection similar to the mainland.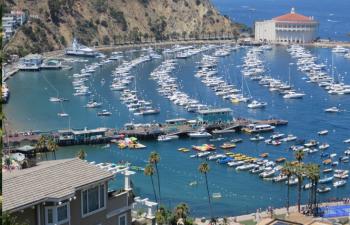 We used Catalina Island Vacation Rentals (https://www.catalinavacations.com/), which shares many listings with VRBO but charges less, to rent a slightly shabby but spacious two-bedroom in the nearby Bahia Vista condominiums. Two large terraces enabled dining outside as we admired the views of Avalon, the surrounding hills, and the magnificent Pacific.

If you walk in the early morning along the tiny beaches on the Avalon waterfront, you'll see towels covering every bit of the trucked-in sand. Step around them and over the pebbly shoreline to find clear water perfect for swimming. A nicer, and less crowded, pay beach is just beyond the Casino: the Descanso Beach Club (https://www.visitcatalinaisland.com/things-to-do/descanso-beach-club/), where you can order food and drinks delivered to your (rented) lounger on the sand.

Check out the weekly Catalina Islander newspaper for a peak into the local culture and don't miss the sheriff's log. One hapless guy from Long Beach was arrested as he tried to use a boat ticket purchased with a stolen credit card. Catalina is a tough place to escape the arm of the law.

That's partly because there's almost no cars and everyone gets around by golf cart, which means it's quiet and peaceful at night. You can cruise around for about $60 an hour, a popular activity for visitors and locals. Golf carts are limited to one per household, but if you move to Avalon and seek a car permit, plan on at least a 25-year wait. And gas was nearly $7 a gallon when we visited.

Our favorite walk followed Pebbly Beach Road (the beach actually rattles as the waves roll in), past the temporarily deactivated desalination plant and turned uphill onto Wrigley Road, where the former Wrigley Mansion is now a luxurious bed and breakfast, open to the public only for lunch. Our fellow tourists chugged slowly up the steep road in their golf carts, but the views at the top were panoramic; total distance is 3.5 miles.

About one mile up Avalon Canyon Road is the Wrigley Memorial and Botanical Gardens, part of the Catalina Conservancy, which is another popular golf cart destination or an easy walk. Spring is probably the best time to visit as it was noticeably dried out in late August. The memorial is decorated with colorful tiles in the style of Catalina Pottery and has a view all the way to the water.

Another favorite activity is a glass-bottom boat tour of the Lover's Cove Marine Reserve, where you can see the bright orange Garibaldi fish, the California marine state fish. Lover's Cove is also an easily accessible snorkeling site, as is the water behind the casino.

Our favorite activity was the Catalina Island Conservancy's (http://www.catalinaconservancy.org) two-hour Eco Tour ($79). Commercial companies also offer jeep tours, but we felt supporting the conservancy was the best use of our money.

Our knowledgeable guide and driver, Maria Dominguez, outreach program coordinator for the conservancy, told us that 88% of the island is owned by the conservancy, 1% by the Wrigley family (some still live on the island), and 11% by the Catalina Island Company. She explained how in drought years, Avalon must supplement its drinking water from energy-intensive, expensive desalination.

After the conservancy was founded in 1972 and granted 42,000 acres of the island, it inherited a bison herd. Fourteen of the animals were originally brought to the island in the early 20th century to be used in a film. With no natural predators, the population grew to more than 600 by the 1980s. The conservancy's research indicated the island could support only about 120 bison without harming the ecosystem, so the others were transported to mainland preserves.

The conservancy is continually surveying Catalina to identify endemic plant, animal, and insect species, and have found over 60 so far, according to Dominguez.

"Everything here arrived by wind, water, or on the wings of a bird," she pointed out.

"The current also takes Catalina's plant debris to islands off the coast of Baja, California," Dominguez noted.

Catalina offers a rare mix of daytime adventure and evening serenity. Visit the island and you'll understand why Nat King Cole sang many years ago, "I left my love in Avalon."
Comments on Facebook