UCSF doc pens bestseller on aging
Wednesday Aug 21, 2019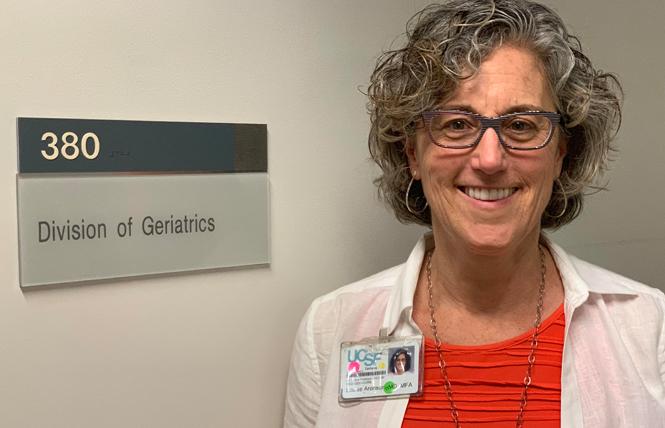 While aging presents challenges for everyone, LGBT people who plan to grow old in San Francisco will have more than their share of obstacles.
That was one of the predictions of geriatrician Dr. Louise Aronson, professor of medicine at UCSF and the author of the New York Times bestseller "Elderhood: Redefining Aging, Transforming Medicine, Reimagining Life," published by Bloomsbury in June.
In a recent interview with the Bay Area Reporter at her office on the UCSF campus, Aronson, a 55-year-old lesbian, offered her perspective on aging, based on both her personal and professional life in the city.
A graduate of Harvard Medical School and the master's of fine arts program for writers at Warren Wilson College, a private liberal arts school in Swannanoa, North Carolina, Aronson has helped her parents, as well as thousands of elderly patients she has seen in her practice, to navigate the complicated issues that arise later in life.
The problem, said Aronson, is that society "has turned old age into a disease ... a condition to be dreaded, disparaged, neglected, and denied."
With modern increases in lifespan, the period she calls "elderhood" — the third and final stage after childhood and adulthood — may now span 40 years of people's lives, or more.
To deal with the adjustments people must make to cope with the changes physically and intellectually after age 60 (the age Aronson defines as the beginning of elderhood), people must change their attitudes to see elderhood not as an ending or decline, but "as yet another stage of life with its hardships and challenges" as well as "opportunities and joys."
Aronson urged people to re-examine the meaning of aging and to "reframe our later decades to better prepare for and thrive" in those final years, she said.
For those living in San Francisco, several realities will make life more difficult, she conceded. In addition to the astronomical cost of living in the city, few of the homes and apartments were built to meet the needs of the elderly. Often two- and three-story residences built into the side of a hill are difficult to navigate for people with mobility issues, she said. Cities like New York and Chicago, filled with elevator buildings without steps, can better accommodate the elderly.
In San Francisco, people who can afford to stay because they live in a moderately priced rent-controlled apartment still have challenges, she said.
"I've seen elderly patients in walk-up rent-controlled apartments that they won't leave because it's all they can afford," Aronson said, adding that often, they become homebound because they can't navigate the stairs. Housing geared for the elderly is rare here, she said.
"We don't have nearly the number" of affordable housing units for senior citizens, Aronson explained.
And when it comes to housing for LGBT elders, the problem is even worse, she said.
While giving high praise to Openhouse, the agency that offers housing and community programs for LGBT seniors, Aronson said that the waiting list for housing "is very long."
As the B.A.R. recently reported, the last tenants are moving into Openhouse's new affordable apartments for seniors at 95 Laguna Street this month. The new $40 million building includes 79 units of housing, and more than 1,300 people applied. (Fifteen of the units were designated for people who are homeless or at risk of homelessness, and another six went to people living with HIV/AIDS.) The agency's first phase of the project at 55 Laguna opened in 2016 and saw a former college building remodeled into 40 housing units and the Bob Ross LGBT Senior Center, named for the B.A.R.'s founding publisher.
Karen Skultety, Ph.D., a bisexual woman who is Openhouse's executive director, previously told the B.A.R. that the agency is open to having conversations around more LGBT senior housing. But officials from Mercy Housing, which developed the Openhouse projects, said there are currently no LGBT-specific senior housing projects in its pipeline.
(The Openhouse units aren't specifically for LGBTs but the agency expects a majority of the residents at 95 Laguna will identify as such.)
"Openhouse is fantastic," Aronson said, "but we need more services" like those offered there.
Senior housing for LGBT people is important, she said, because of the history of discrimination faced by the current generation of baby boomers entering elderhood. What's more, Aronson said, LGBT people have a higher rate of chronic diseases, in part because of the stress of being in a marginalized group, which can lead to accelerated aging. In addition, LGBT people are less likely to have children, who can often provide support for aging parents as well as housing options.
Fragmented care
When Aronson works with elderly patients facing serious illnesses, she tries to talk with them about planning for end-of-life care, an area that can be fraught with anxiety.
While a number of studies have indicated that people "say they want to age at home," that choice will work best for people who have outside social support that can "get them out of the house and socializing" with others, she noted.
"Isolation" becomes a real problem, Aronson said.
Because such a small percentage of people are able to see a physician who is trained to deal with elderly patients, care is often fragmented.
"There are specialists for children and adults but very few for the elderly," Aronson said, recommending that people who want to find a geriatrician look for a physician who is "board certified and fellowship trained," referring to passing specialty exams after completing an accredited training program.
"There are lots of doctors who call themselves geriatricians" after being grandfathered into the specialty, she said.
Few graduating medical students are interested in a career in geriatrics, Aronson said, leaving lots of unfilled positions in graduate training programs. "Pediatrics fills up quickly," she said, while slots for geriatric trainees remain unfilled.
The medical community is subject to the same attitudes and prejudices as the general population, she said.
"Dealing with the elderly has a bad rap," Aronson said.
She decided to specialize in geriatrics when she was a medical student.
"I really, really like working with elders," Aronson said. "It is fascinating to hear their perspective of life and it's a field where I believe I can put my training to good use."
Both of Aronson's parents developed successful "encore careers," perhaps adding to her optimism that elders can find new and satisfying opportunities after retirement. Her dad, previously in management at a manufacturing company, started a business that helped people to locate hard-to-find products. And her mom, who had worked as a fundraiser, launched a startup that did research to provide data to foundations to help them decide where to donate their funds.
"The key is to have a plan," Aronson said.
In her clinic visits with patients, Aronson said that she tries to help people "figure out their priorities" for the coming years and then "try to figure out what's possible."
As for herself, married without children, the future looks bright. As an academic physician with a writing career on the side, Aronson said she has "absolutely no plans to retire." (She did not respond to an email asking her spouse's name.)
"A person's attitude about aging is so important," she said. "If you believe those years can be good, and if you're socially engaged and physically active, elderhood can be and often is the happiest time of your life."
"Elderhood" can be purchased at bookstores or online.