Book captures stories of LGBT trailblazers
Wednesday May 29, 2019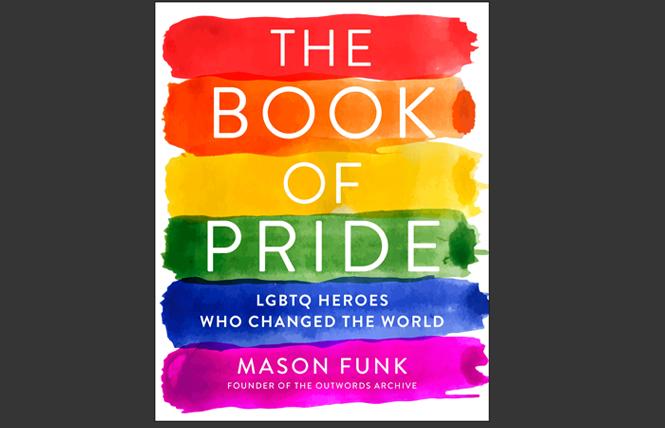 It all began with a sleepless night in June 2014. Mason Funk, a writer and producer of nonfiction TV programs for Discovery Channel, A&E, Fox Sports, and others, began reviewing his life from the time he knew he was gay, realizing how much it had changed through the decades.

Funk, 60, felt connected for the first time to a profound societal shift, a movement from which he had benefited, though he had done little to contribute to it himself. However, as an interviewer, he wanted to find people who had made a difference to LGBTQ equality and liberation and served on its front lines, documenting the remarkable changes that he had witnessed.

This was the birth of OUTWORDS in 2016 to collect and share these stories; to capture professional quality, in-depth, on-camera interviews with those pioneers still alive.

Those 75 original interviews resulted in "The Book of Pride: LGBTQ Heroes Who Changed The World" (HarperOne). Funk, who will be in San Francisco Thursday (May 30), explained his reasoning to the Bay Area Reporter in an e-mail interview.

"I was struck once again by the difference between my profound fears of being gay (during my teen years and into my early 20s), and the present-day reality of my life as a gay man — a wonderful partner/husband/soulmate, good friends, and the ability to openly embrace my sexuality. I was just moved to run around the country finding the people who had braved tremendous odds and found courage within themselves to come out and fight back against the prevailing attitudes and laws regarding homosexuality."

To counter any criticism about the need to document the LGBTQ past, Funk wrote, "Recording out elders' stories will serve as a critically important bulwark against the fake news crowd. To this day there are people who deny the Holocaust ever took place. What's to prevent people 50 or 100 years from now from denying the queer community's collective journey, our vitality, our very existence?"

In fact, he said it was his deep admiration of the USC Shoah Foundation project interviewing Holocaust witnesses and survivors from all around the world that helped inspire OUTWORDS.

Funk used a variety of ways to find participants.

"I consulted LGBTQ history books, talked to folks with deep connections to the community, and dug around on the internet," he wrote. "I steered toward folks who were older, for obvious reasons — they had lived more, and had less time to share their stories.

"I also systematically sought out folks from the 'B' (bisexual) community, which often gets overlooked within our community, as well as 'T' (transgender) folks whose stories are so rich and varied," he added. "This community's elders are a bit harder to find, but well worth the extra effort. And overall, I was intent that OUTWORDS and 'The Book of Pride' reflect the full diversity of our community."

Funk said some people were uncertain when contacted.

"Many interview subjects were nervous to have me show up on their doorstep," he wrote. "The vast majority had never met me before. You spend time making small talk while deciding where to set up the camera. Gradually, they get more comfortable; but some were still very nervous by the time the interview started."

Funk added that most of the interviewees had decided ahead of time how much they were going to share with him.

"Or, they hadn't decided, but it was clear they were going to only open up so far. That was fine. I respected that," he wrote. "I wasn't there to dig up painful stuff that they'd rather leave buried."

Funk's husband, Jay Edwards, a psychotherapist, gave him some pointers.

Along the way, Edwards told him, "Don't think that people are necessarily telling you the 'Truth' with a capital T," Funk recalled. "They are telling you their truth; the truth they can live with."

What struck Funk was that most interviewees didn't worry as much that their contributions had been forgotten, but some didn't recognize the importance of their individual journeys.

"Donna Burkett in Milwaukee is a great example of this," Funk wrote. "What difference did it make that she and her girlfriend, Manonia, applied for a marriage license in Milwaukee in the early 1970s? Not much, really. But it was one more act of courage. (And for the record, it was cited in a marriage equality decision in 2014.) But I think for most individuals, it's really hard to see how your individual decisions and acts can add up to something bigger."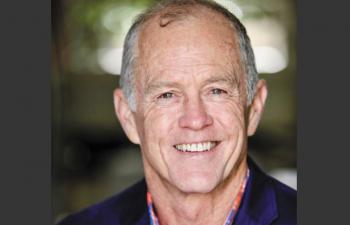 Famous and unsung heroes
The book is a balance between some well-known LGBTQ personalities such as Troy Perry, Fenton Johnson, Evan Wolfson, Diana Nyad, Dean Hamer, Margarethe "Grethe" Cammermeyer, Miss Major Griffin-Gracy, Donna Sachet, John James, Shannon Minter, and Karla Jay, and lesser known heroes, reflecting how one single solitary individual, living in complicated circumstances navigated a path forward, such as K.C. Potter, who in 1987 created a safe place for gay students at Vanderbilt University.

Others include Ada Bello, who helped launch the Philadelphia chapter of the Daughters of Bilitis; Kylar William Broadus, who founded the Trans People of Color Coalition in Missouri; Jewel Thai-Williams, who opened up Jewel's Catch One, one of America's first black discos in 1973; Alexei Romanoff, who in 1966 organized one of the first protests at the Black Cat gay bar against police raids, pre-dating Stonewall by years; Phyllis Randolph Frye, who in 1991 created the International Conference on Transgender Law and Employment; and Eric Julber, a lawyer who in 1958 won a landmark anti-obscenity case in the Supreme Court against ONE magazine.

Still others are Jim Toy, who helped create the Lesbian-Gay Male Programs office at the University of Michigan, the first staffed university office in the world for addressing sexual orientation issues; Mary Morten, who co-created the documentary "The Nia Project: Images of African American Lesbians;" Kay Lahusen, who through the 1960s and 1970s established herself as America's first openly gay photojournalist; Jamison Green, whose prize-winning book, "Becoming A Visible Man," has become a classic text, informing and inspiring transgender and cisgender people worldwide; Diana Rivers, a pioneer of women-only spaces, especially the 280 acres Ozark Land Holding Association, and organizer of women's conferences and festivals; and Blackberri, singer-songwriter and HIV activist, composer of "Beautiful Black Man," the centerpiece of Isaac Julien's movie "Looking for Langston."

Funk was most moved by James Credle of Newark, New Jersey, who was a decorated Vietnam veteran and helped found the National Association of Black and White Men Together and the Newark LGBTQ Center.

"The rawness of his emotions; his stories of serving in Vietnam, and the systematic racism that black soldiers faced upon returning to the U.S., leading to higher rates of 'bad paper' (dishonorable discharges). The fact that he was entrusting his rage and his stories to me, a white reporter whom he had never met before. I almost couldn't breathe," Funk wrote.

Funk has many favorite interviews, but mentioned Gigi Raven Wilbur as particularly memorable.

"Gigi is intersex and also calls herself a hermaphrodite. Gigi also refers to himself with both pronouns. This was on the outskirts of Houston, at the end of an isolated country road. Gigi is just incredibly brave. She has had to fight hard to find a safe place in the world," Funk wrote. "I also love how Gigi embraces his sexuality and his BDSM practice (she wrote 'The Dominant's Handbook: An Intimate Guide to BDSM Play'), and how he has a late-night radio show where people can call in and talk about their sexuality, ask questions, share stories, in a respectful environment. Gigi refuses to be classified, and in doing so, she helps other people to feel more comfortable on the journey to discovering exactly who they are (and who they are not)."

Not surprisingly, Funk observed there are many differences of opinion within the queer community.

"As alluded to in my intro, not everyone agrees about the importance of marriage," he wrote. "Others said openly, why the hell would we care so much about serving in a 'killing machine' called the U.S. military? I thought this was great. I love strong opinion. But finally, the idea that to create lasting change you have to work both inside and outside the system. In the areas where I work to create change, I'm more of an 'insider.' But a movement also needs angry outsiders. It's fascinating to me, and I think it's one of the 'lessons' that the queer community has to offer to the world at large as a model of how to create enduring change."

Funk wants readers to leave with several takeaways once they've finished his book.

"Break out of your stereotypes; be curious about people who are different than you. Big changes are more often the result of small, individual, seemingly insignificant actions — not big, splashy, 'newsworthy' actions. Be courageous," he wrote. "Even on a personal level, I had no idea when I conceived of OUTWORDS that it would become anything significant. With the encouragement of friends, I stuck my neck out and announced what I wanted to do. And somehow, stuff started to happen."

After all the interviews, Funk felt his understanding as a gay man had been transformed.

"I'm so humbled to be keeping the company of the people in this book. Being with them has given me a sense of pride that I never had before. Also outrage at the way queer people were treated in not-so-distant times here in the U.S.," he wrote. "Being with the subjects of the book (along with lots of other events happening concurrently in our country) has also heightened greatly my awareness of myself as a privileged white guy. I truly feel honored to be a historian of this incredible movement."

For Funk, what unites and defines the LGBTQ community is that "we are all rule-breakers in one of mainstream society's most deeply entrenched and ferociously protected systems: the roles of women and men.

"Frequently, we take things a step further, asserting that the basic rules of engagement — either/or, fixed notions of gender and gendered behavior — are flawed," he wrote. "We are helping the human race move toward more freedom, openness, transparency, and integrity. In living by our own rules and being exactly and unapologetically who we are, we are helping create a world where other people can do the same."

Funk will appear Thursday, May 30, at 7 p.m. at Books Inc., 601 Van Ness Avenue.

OUTWORDS ultimately conducted 131 interviews, not all of which could be included in "Book of Pride." Eventually, all of them will be available on its digital platform, http://www.theoutwordsarchive.org.