"My name is Jeff Freitas, I am an American Federation of Teachers vice president, the president of the California Federation of Teachers, and I am a gay teacher."
Viewing 1 thru 12 of 2983 Stories
Glide church in the Tenderloin and the San Francisco Police Department will hold a reflection and reconciliation session Monday, August 26, timed to the 53rd anniversary of the Compton's Cafeteria riot.
Years ago, Alex Randolph and Tom Temprano both benefited from attending community colleges in Southern California, in San Diego and Ventura respectively, prior to enrolling at four-year universities in the Bay Area.
House Speaker Nancy Pelosi wants her name taken off a Lifetime Achievement Award given by the Shanti Project as this year's honoree is Dede Wilsey, a philanthropist who this summer hosted a re-election fundraiser for President Donald Trump.
The University of San Francisco has appointed its first-ever rabbi in residence.
The South Bay will tout its diversity and resistance at the 44th annual Silicon Valley Pride this weekend.
He has served less than a year on the San Leandro Unified School District Board of Education yet James Aguilar already has his sights on running for higher office.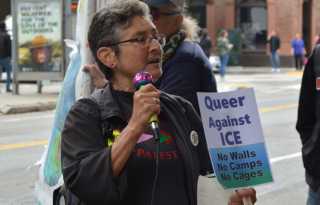 Queer and trans people joined in the Month of Momentum Monday afternoon in front of the federal Immigration and Customs Enforcement office in downtown San Francisco as they led a peaceful protest encouraging the abolishment of the agency.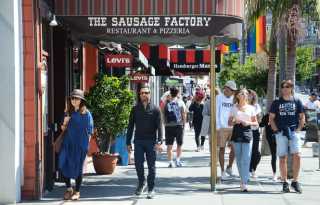 The recent mass shooting in nearby Gilroy, as well as the other incidents in El Paso, Texas; Dayton, Ohio; and many other cities, prompted us to gauge whether the Castro is prepared with safety plans for a violent emergency.
This may not be a surprise, but it is news: Gay presidential candidate Pete Buttigieg has outraised his Democratic competitors in most heavily LGBT neighborhoods around the country.
While aging presents challenges for everyone, LGBT people who plan to grow old in San Francisco will have more than their share of obstacles.
During their junior year at Sonoma Valley High School José Valdivia joined the Gender Sexuality Awareness Club. At one of its meetings, a staffer from the nonprofit LGBTQ Connection came to talk to the high school students about its youth leadership teams
This week's editorial cartoon.
Viewing 1 thru 12 of 2983 Stories