U.S. Supreme Court observers are more reluctant than usual to try and predict how the court might come down on the always hot-button issue of LGBT rights.
Viewing 1 thru 12 of 3171 Stories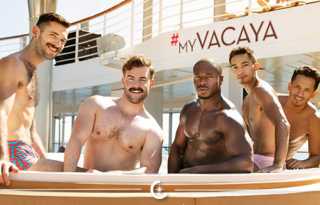 As I crossed the gangway to board the Celebrity Cruises' Summit for VACAYA's maiden voyage this summer, the Scissor Sisters serenading over the speakers reassured me that "a kiki is a party for calming all your nerves."
Facing a tepid response from adults willing to open their homes to a homeless young person, the San Francisco LGBT Community Center will hold a recruiting event this Saturday for its Host Homes program.
A debate among the four candidates for San Francisco district attorney was civil for the most part, but near the end the two leading candidates squabbled over the mayor's recent action appointing Suzy Loftus interim DA.
The Castro will have a third cannabis dispensary thanks to a 4-0 vote last week by the city's planning commission allowing the Flore Store to open at 258 Noe Street.
The cute, furry faces of teddy bears provide a whimsical detail to the back of two leather vests worn by leathermen in a daddy and son relationship.
My mainstream sports journalism career reached its apex 30 years ago today — October 17, 1989 — when the Loma Prieta earthquake rumbled through Candlestick Park just minutes before the scheduled start of Game 3 of the 1989 World Series.
We tried to schedule an editorial board interview with Paul Miyamoto, the only candidate for San Francisco sheriff.
San Francisco City Attorney Dennis Herrera is running unopposed for a sixth term and we endorse him once again.
Mayor London Breed has had several opportunities to fill vacancies on city boards or commissions after members left for other positions.
Manohar "Mano" Raju is running unopposed for San Francisco public defender. Mayor London Breed appointed him to the position earlier this year following the unexpected death of Jeff Adachi and it was a wise choice
José Cisneros is the only LGBT citywide municipal officeholder.
San Francisco Unified School District Commissioner Jenny Lam was appointed last January by Mayor London Breed to fill a vacancy on the board and now must run to complete the unexpired term.
Viewing 1 thru 12 of 3171 Stories