San Francisco Pride is working with City Hall to make major changes to the 50th annual parade and festival, which is scheduled for June 27-28, in light of the novel coronavirus outbreak.
Viewing 1 thru 12 of 3771 Stories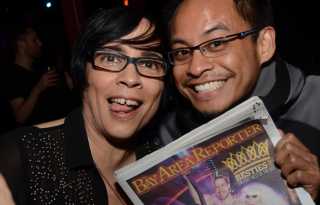 San Francisco is one of 11 US cities that is fortunate to have a legacy LGBT publication by us, for us, and about us. Help preserve the BAR as an historic and important community institution for the future.
Seated at his kitchen table, gay political leader and comedian Tom Ammiano began to recount his life story in July 2018 to journalist Tim Redmond and Jon Golinger, a political consultant and author.
This Sunday is Easter, typically the most joyous day of the church year for Christians.
The novel coronavirus outbreak has moved much of life, both in the city and around the world, online — and celebrations of one of the holiest times of the year for Christians and Jews are no exception.
Zaid Almasser was getting ready to open his first restaurant at 417 Castro Street — the former home of Dapper Dog, which shuttered earlier this year.
Belo Cipriani vividly remembers the three days he had a fever of 102 degrees after contracting the H1N1 virus, or swine flu, back in 2009 while living in San Francisco.
From an early age Dino Medardo Rosso had an ability to master foreign languages, first learning Spanish in kindergarten. It prepared him to converse with his adopted brother from El Salvador.
Openhouse, the LGBT senior agency in San Francisco, will host a virtual panel discussion where two-spirit First Nation people will share stories of life on the reservation and in the city's queer community.
It was long overdue and not enough when the U.S. Food and Drug Administration announced last week that it had issued new guidance for gay and bi men donating blood.
San Francisco City Hall was lit up in the red and yellow colors of the Spanish flag at nightfall Friday, April 3, as the city expressed its support with the European nation over the novel coronavirus pandemic.
LGBT Asians around the world are fighting back in the face of coronavirus-inspired racist attacks against Asians.
You don't need me to tell you how difficult and challenging these times are. We're all living through a pandemic and the affiliated economic collapse, made all the worse by an inept and cruel response from a corrupt federal government.
Viewing 1 thru 12 of 3771 Stories