LGBTQ nonprofits looking for new leaders should be proactive in soliciting candidates who are women, trans, people of color, or a combination of those.
Viewing 1 thru 12 of 2296 Stories
California Governor Gavin Newsom has made history by hiring a transgender man as part of his administration's communications team. JP Petrucione is believed to be the highest-ranking, out, transgender appointee in state history.
Those who prosecuted Marjorie Knoller in the 2001 dog-mauling death of lesbian Diane Whipple say a state board's decision last week to deny parole to her is justice.
In what prosecutors are calling a confession, James Rickleffs admitted to tying up Steven "Eriq" Escalon, stealing items from his home, and leaving him bound and gagged in a two and a half hour video interrogation shown to the jury this week.
It was 15 years ago this week that then-San Francisco mayor Gavin Newsom ushered in a bold stand for same-sex couples when he ordered city officials to issue them marriage licenses.
A unique project likely will bring smiles to the faces of ill children on Valentine's Day.
As one of the first out black men in stand-up comedy, Sampson McCormick has created a short film that's anything but a laughing matter.
The federal government has thrown up another roadblock to supervised injection sites, filing a lawsuit against Philadelphia's Safehouse, which had hoped to open the first such facility in the United States.
Marisa Ramos, Ph.D., is back as interim chief of the Office of AIDS within the California Department of Public Health.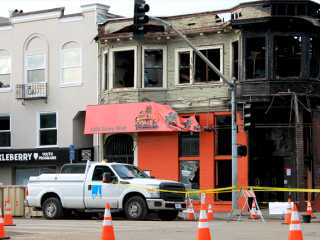 The gas explosion in San Francisco's inner Richmond district last week affected two organizations that serve the LGBT community.
A year ago this month celebrated gay crime novelist Michael Nava secured the rights for all of his published works, including the seven titles in his acclaimed series featuring the gay criminal defense lawyer Henry Rios.
San Francisco police offer reward, updated sketch in "Doodler" cold case.
Canada's government has pledged $30 million to improve LGBT lives in developing countries over the next five years.
Viewing 1 thru 12 of 2296 Stories