Congressman Adam Schiff, who made headlines as the lead House impeachment manager during the trial of President Donald Trump earlier this year, participated in an April 29 virtual town hall with the Commonwealth Club.
The U.S. Department of Health and Human Services is moving to promulgate proposed changes to non-discrimination regulations that would effectively strip LGBTQs from protection under federal law.
The LGBT Pride March in New York City was canceled April 20 — the latest in a series of Pride cancellations due to the novel coronavirus outbreak that within weeks killed over 40,000 Americans.
As medical professionals turn their attention to the fight against the novel coronavirus, resources are being taken away from people who are struggling with other fatal diseases.
San Francisco will ban taxpayer-funded travel to Idaho and city contracting with businesses based in the state starting in July.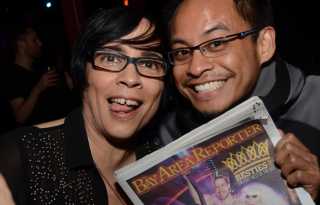 San Francisco is one of 11 US cities that is fortunate to have a legacy LGBT publication by us, for us, and about us. Help preserve the BAR as an historic and important community institution for the future.
Although a majority of Americans continue to believe small business owners should not be allowed to use their religious beliefs in order to refuse service to gay and lesbian customers, there has been a weakening in such sentiment over the last three years
Equality California and its Nevada affiliate, Silver State Equality, announced Friday that they've endorsed presumptive Democratic Party nominee former vice president Joseph R. Biden Jr. for president.
The U.S. Food and Drug Administration on Thursday announced major changes to its ban on blood donations from men who've had sex with men.
Vacations and weddings may be on hold, but our readers voted for their favorite dream destinations and venues for special events.
The Idaho state Legislature took time out this week from the battle against the global COVID-19 pandemic to send two anti-transgender bills to Governor Brad Little.
Lesbian political commentator Rachel Maddow put the Democratic presidential primary contest into harsh, blunt terms Tuesday night.