Two California-based LGBT groups have come out with early endorsements of gay Democratic presidential candidate Pete Buttigieg as he plans a fundraising swing through the Golden State this week.
City Attorney Dennis Herrera files suit against Trump administration over new HHS rule that would allow health care staff to refuse to provide medical treatment to people, even in emergencies.
A beer hall is set to open next week on upper Market Street in San Francisco's gay Castro district, while across the street an arcade bar has won approval to expand its business.
A city oversight panel has lent its support to the creation of an LGBT cultural heritage district in San Francisco's Castro neighborhood.
A plaque at Pink Triangle Park and Memorial in the Castro was discovered defaced Wednesday morning.
In a 2-1 ruling, a Court of Arbitration for Sport three-member panel ruled Wednesday that the international federation of track and field has the right to discriminate against female athletes who have naturally occurring high levels of testosterone.
CA leaders are pushing legislation aimed at boosting insurance companies' contracts with LGBT-owned firms. It comes as lawmakers are also seeking to increase hospital contracts for such businesses.
The onetime suspect in the death of Brian Egg, a gay man whose decomposed torso was found in a fish tank in his South of Market home last summer, was released from jail Wednesday, April 24, the Bay Area Reporter has learned.
San Francisco African American community leaders ripped into the Los Angeles-based AIDS Healthcare Foundation Monday for the agency's use of a race-baiting mailer to oppose gay state Senator Scott Wiener's housing legislation.
In what one legal expert called an "aggressive move," the U.S. Supreme Court announced Monday that it will take up the issue of whether existing federal law prohibits discrimination based on sexual orientation and gender identity in the workplace.
Mayor London Breed on Friday reversed course and moved Reese Aaron Isbell, who she swore in to a tenant seat on the San Francisco Rent Board last month, to an alternate seat on the panel.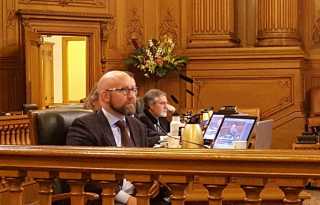 Preliminary information on how San Francisco departments are collecting data on sexual orientation and gender identity were discussed at a Board of Supervisors committee hearing Thursday.