Community leaders and the family of the late gay supervisor Harvey Milk blasted San Francisco International Airport officials for mishandling the naming of a terminal after the LGBT icon during a City Hall hearing Monday morning.
LGBT seniors and their advocates will descend on Capitol Hill this week to lobby members of Congress.
A Sonoma County Superior Court jury Thursday found a Guerneville man guilty of a felony hate crime for threatening to kill LGBTs in May 2018.
California's statewide LGBT advocacy group has endorsed gay state Assemblyman Todd Gloria (D-San Diego) to be San Diego's next mayor, a position he briefly held five years ago on an interim basis.
Art studios, nonprofit offices, and restaurants serving wine and beer would find it easier to open along upper Market Street in San Francisco's gay Castro district under zoning changes being proposed by District 8 Supervisor Rafael Mandelman.
Louisville Ballet receives anti-gay comments about its new performance; Gender Spectrum releases sex ed guide for educators.
A San Francisco jury has found defendant James Rickleffs guilty of first-degree murder in the death of gay hairstylist Steven "Eriq" Escalon, whom he had met at a gay bar in the city's Castro district in June 2012.
SF Harvey Milk LGBTQ Democratic Club endorses Kimberly Ellis for state Democratic Party chair as the race to lead the statewide party heats up.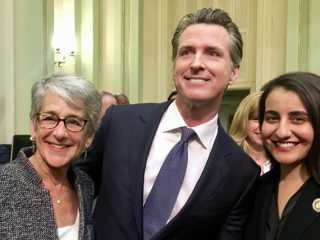 California lawmakers are moving forward on the creation of a statewide aging plan that is expected to include the needs of the Golden State's LGBT community.
Musician and television personality Amara La Negra has been announced as the first entertainer who will headline this year's San Francisco LGBT Pride celebration.
California Governor Gavin Newsom has made history by hiring a transgender man as part of his administration's communications team. JP Petrucione is believed to be the highest-ranking, out, transgender appointee in state history.
California lawmakers have revived a bill requiring public schools to train their staff on LGBT cultural competency that former Governor Jerry Brown had vetoed in the fall.