Online Extra: Political Notes: CA Dem Party to release partial report about gay ex-chair's sexual misconduct
Monday May 4, 2020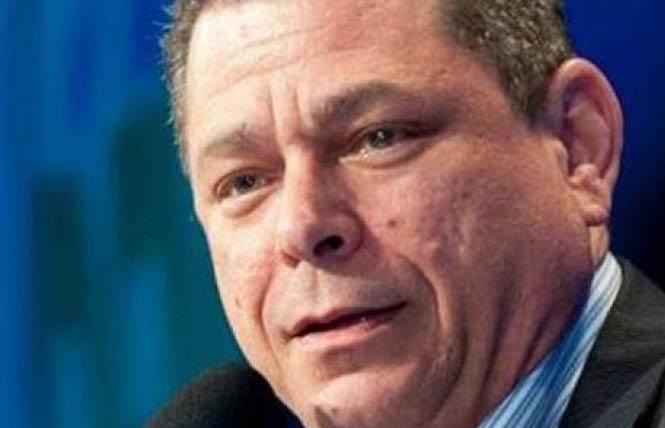 After first saying he would not disclose any of the findings of a report into the sexual misconduct charges against the California Democratic Party's gay former chair Eric Bauman, current party chair Rusty Hicks now plans to release portions of the investigation's conclusions.
Bauman, a longtime fixture in the Los Angeles Democratic Party, was elected state chair in 2017 and resigned the following year in November after multiple staff members and younger male leaders within the party accused him of sexual harassment and assault. This January, the state party announced it had settled a trio of lawsuits filed by five former party staffers for a reported $2.9 million without acknowledging any specific wrongdoing by Bauman.
The party had hired an outside, independent investigator to look into the accusations against Bauman, who in court denied the allegations made against him in the lawsuits. What in the report is released has drawn controversy for weeks, with some of the victims opposed to seeing the entire report be released while others argue it can be done so in a way that protects the privacy of the victims mentioned in the document.
Last month, Hicks had announced on Twitter that he would not release any of the findings in order to protect the victims. His decision was praised by some party members but chastised by others concerned it was being done to protect officials in the party who had done nothing to address Bauman's alleged behavior and drinking on the job.
Hicks' decision to suppress the report initially led the editorial board of the Sacramento Bee to call on him to resign if he didn't release it. He then changed course shortly after the paper published its editorial, writing on Twitter Saturday, April 25, that the state party would retain the public interest law firm Altshuler Berzon LLP to work with the survivors and/or their counsel to determine what portions of the investigative report to release.
He also said the state party would convene an advisory group consisting of survivor advocacy leaders, employment law experts and human resources personnel to work with its executive director and independent ombudsperson to look at how to strengthen its code of conduct policies to ensure staff and party members would not be subjected to sexual misconduct and harassment.
"My recent comments related to the investigation report related to allegations made against former CDP Chair Eric Bauman have reflected a victim/survivor-centered and trauma-informed response. I remain committed to that objective," Hicks wrote.
In response, the Bee's editorial board called on Hicks to "stand aside" and allow the victims to "lead the way" going forward. But there continues to be disagreement among party members regarding the path forward.
Monday, April 27, five of the people who accused Bauman of misconduct released a statement saying they supported Hicks' decision not to release the full report and asked that they be allowed to review any of the investigation findings before they are released. They also want to see a panel made up of survivors and party members be convened to determine what in the report is released and tasked with creating an executive summary for publication that includes "balanced perspectives."
The five are San Diego County Democratic Party Chair Will Rodriguez-Kennedy; Kate Earley, the state party's former digital director; Los Angeles Democratic County Central Committee member Alton Wang; state party delegate Spencer Dayton; and party volunteer Maddy Dean.
"As our reputations and well-being are at stake, we firmly disagree with the calls to widely release this report without our input or that of other survivors," said the quintet. "Many of us did not participate in what we viewed as an unbalanced investigation. Despite this, due to how intertwined our experiences were with those who did participate, we expect that many of our names and our experiences will be included."
They called on the state party to "be transparent about what happened and what needs to be done" going forward. They are asking for a "survivor-centered" approach that ensures the interests of the state party "are not once again placed ahead of the interests, safety, and well-being of survivors or party members."
The LGBT Caucus of the state party has supported such an approach, issuing a statement last month from its nine-member board after it spoke with Hicks about the matter. While the caucus leaders said they agreed with his initial decision not to release the full report, they also chastised him for announcing it via a single tweet and called for further discussion on how to reveal the investigation's findings.
"We share the concern by many in our party with the importance of transparency and with ensuring that party activists and staffers will never again have to endure harassment or abuse from our leaders," read the caucus' statement. "We believe, however, that the greater concern has to be the well-being of the survivors, some of whom have already expressed themselves publicly in opposition to the release of the report."
They called on Hicks "to more fully address the issue in a manner that will reach the widest possible audience and validate all survivors' experiences."
A group of progressive LGBT Democratic leaders released their own statement April 29 calling on Hicks to release the full report. Among the signatories were Alfred Twu, a party delegate from Berkeley who is nonbinary; lesbian former Richmond city councilwoman Jovanka Beckles; and Shay Franco-Clausen, a lesbian who serves on the Santa Clara County Democratic Central Committee.
"As party veterans and newcomers, we are disgusted at how Eric Bauman groomed victims, groped and pressured male staff members for sex, harassed women, and sought to distort the dignity and respect befitting LGBTQ identity into a license to victimize and a shield from accountability," they stated. "Amid all the anguish he inflicted, the viciousness and the damage, an unfulfilled hope persists for honest accounting of his atrocities. Perhaps the sting of the broken promise of a report, like the injury inflicted by the serial perpetrator, is most acute among LGBTQ Democrats in California."
In addition to their statement, lesbian former Assemblywoman Jackie Goldberg, who now serves on the L.A. Unified School Board, issued her own statement calling for a redacted version of the report to be released.
"Sexual harassment and assault and the enabling and cover-up of shameless mistreatment against women and men can only be exposed and eradicated with sunlight. Stop fooling around about reporting the facts. Redact names where necessary. Punish the guilty. Protect the innocent," she stated. "Don't delay reckoning any longer. Fix the governance in our state party. That starts with truth, restoring trust, and respecting the role of board members to hold our party accountable to its stated values."
Hans Johnson, a gay man and party delegate who is president of the East Area Progressive Democrats in Los Angeles, has been leading the effort to have the full report released and spoke to Hicks by phone a few days after he first tweeted that he wouldn't release the report. Johnson told the Bay Area Reporter last week that it could be done so in a way that protects the victims by redacting their personal information from the publicly disclosed version.
"This has been a failure of transparency from the beginning. For the current party chair to start the reckoning over this report with a Twitter announcement April 15 based on suppression and failure to provide facts rather than transparency has been very upsetting," said Johnson. "To watch the scramble to justify a failure of transparency adds to the disturbing pattern of shielding the guilty rather than reporting the truth and protecting the innocent now and going forward."
Keep abreast of the latest LGBT political news by following the Political Notebook on Twitter @ http://twitter.com/politicalnotes
Got a tip on LGBT politics? Call Matthew S. Bajko at (415) 829-8836 or e-mail m.bajko@ebar.com
Editor's note: If you liked this article, help out our freelancers and staff, and keep the B.A.R. going in these tough times. For info, visit our IndieGoGo campaign.
Comments on Facebook