San Francisco African American community leaders ripped into the Los Angeles-based AIDS Healthcare Foundation Monday for the agency's use of a race-baiting mailer to oppose gay state Senator Scott Wiener's housing legislation.
Viewing 1 thru 12 of 248 Stories
In what one legal expert called an "aggressive move," the U.S. Supreme Court announced Monday that it will take up the issue of whether existing federal law prohibits discrimination based on sexual orientation and gender identity in the workplace.
Mayor London Breed on Friday reversed course and moved Reese Aaron Isbell, who she swore in to a tenant seat on the San Francisco Rent Board last month, to an alternate seat on the panel.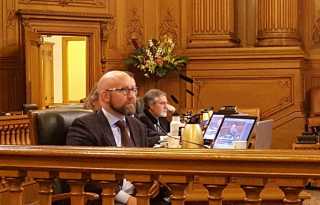 Preliminary information on how San Francisco departments are collecting data on sexual orientation and gender identity were discussed at a Board of Supervisors committee hearing Thursday.
The San Francisco Police Department says its officers will be the first in the nation to wear special patches during Pride Month in June.
Felicia Elizondo, a transgender woman and longtime AIDS survivor, resigned April 16 from the San Francisco Department of Aging and Adult Services Commission after just a few weeks in the post.
North Bay school seeks funds for its welcoming program; LA band releases coming out video.
A committee of the San Francisco Board of Supervisors has recommended that a gay member of the city's rent board be unseated.
Pete Buttigieg, a gay man who's mayor of South Bend, Indiana, kicked off his campaign for the Democratic presidential nomination Sunday.
Report finds few smaller cities in California are an ideal location for LGBT seniors, with just Santa Ana making the list of top 20 locales across the U.S. that do.
Pete Buttigieg, the gay mayor of South Bend, Indiana, made history Sunday when he formally announced his bid for president.
A North Bay man was sentenced to nine months in county jail and three years probation Wednesday for a hate crime conviction tied to an incident in which he threatened to "bomb the gay people in Guerneville" at a local Safeway store last year.
A Montana county denies trans-related health care to a county attorney; Texas Senate OKs harsh anti-LGBT bill; trans prisoner in Idaho seeks surgery after being denied by corrections officials.
Viewing 1 thru 12 of 248 Stories