Pride 2019: Pride-alicious! Musicians and MCs on the big show
Wednesday Jun 26, 2019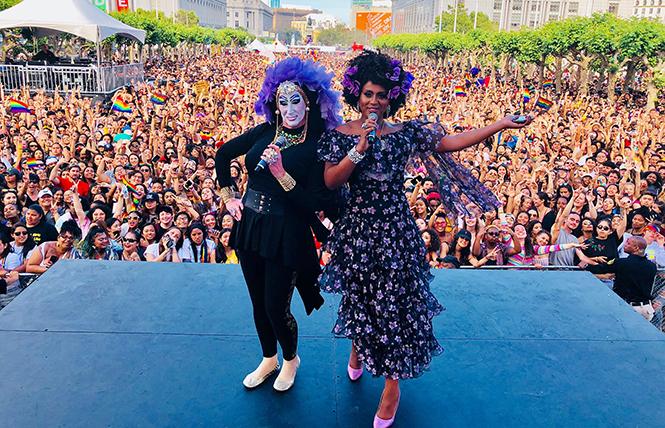 Pride is upon us, and in addition to the parade, SF Pride promises a plethora of exciting live entertainment on the mainstage on Sunday June 30. From drag queens to singers, to political leaders and the Sisters of Perpetual Indulgence, the line-up offers a wide variety of sights and sounds. Sister Roma and Honey Mahogany will co-host Sunday's events.

"It's a huge honor to co-host San Francisco Pride," Sister Roma said. "There really isn't a better audience than the crowd at Pride. Everyone is all about love, laughter and joy, but it's San Francisco so it's also about social justice and empowering our community. It's the perfect mixture of rainbows and radical politics."

Sunday's stage will include a performance by Cheer SF, a cheerleading squad that raises money for HIV service organizations and other life threatening illnesses by executing extreme stunts and powerful dance routines as a means to entertain and inspire audiences. Cheer SF will be seen at 2:15 PM.
Pansy Craze
Another group performing on Sunday is Pansy Division, a queer rock group formed in San Francisco in 1991 by singer/songwriter Jon Ginoli and bassist Chris Freeman. Since its beginnings, the band has been noted for featuring primarily gay members, performing a mixture of pop punk and power pop. Pansy Division became the most successful band of the Queercore movement that began in the 1980s.

Ginoli, who is openly gay and still lives in San Francisco, spoke to Bay Area Reporter about the Queercore movement.

"Queercore is the term that sprung up in the early 1990s and applied to bands that were openly gay, playing rock and roll and punk rock," Ginoli said. "At that time, many famous musicians who were presumed to be gay were not out, but the Queercore bands, of which Pansy Division was one of the first, were boldly open and unapologetic. The openness of the unknown bands helped open the door for more established musicians to come out."

Ginoli described Pansy Division's sound as melodic guitar-oriented rock that could be classified as indie rock or punk rock.

"Our songs tend to be loud, short, brash, romantic and sometimes humorous," he said. "We wanted to push the boundaries of what you're allowed to sing about, to be as open, explicit and honest as we could about our sexuality and desires as well as the struggles and triumphs of being gay."

This particular Pride commemorates an important milestone, the 50th anniversary of the Stonewall Rebellion, which Ginoli calls an important landmark.

"There was a gay community that developed from it, of being public and fighting for our rights, that helped in coming out, and knowing that I was not alone," he said. "When I started to meet other gay people, Stonewall came up pretty quickly."

Pansy Division will perform a thirty-minute set at 3:45 PM.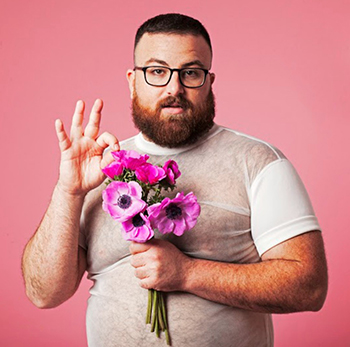 Dipper, he do
Stonewall is also important to Big Dipper, another performer who will be seen at Pride on Sunday.

"I'm lucky enough to know a world that has always included Pride," he said. "It's wild to think that Stonewall happened fifty years ago because it seems we've made incredible leaps and bounds. Yet as a queer community we are still held back by ignorant bigots in power. It's so important to be out, loud and proud when you have a voice that's amplified, and we all have impact on the future of queer people everywhere. The legacy of Stonewall and the amazing queer leaders and activists is very important to keep alive."

Big Dipper is not your average musical performer. In his music videos he reveals himself to be a bear, a plus size guy with lots of body hair. He flaunts his body, and his sensuality, shamelessly and joyfully.

"I just want to perform like a pop star and emulate so many awesome performance and fashion moments that I loved from my favorite music artists growing up," he said. "I feel powerful and untouchable on stage and I want my costumes and energy to reflect that."

Big Dipper noted that once he started flaunting his body people put a political message on top of it.

"I celebrate my body and I love bigger bodies, but the goal was never specifically body positivity," he said. "That feels like a buzzword to me. The goal was just to do me and make art and music and performance. The body positivity, love, acceptance and joyful feeling are all just by products of me being authentic to myself. I love that people feel empowered by what I do and that I can represent big bodied folks, but my intent was always just to dance like Britney Spears or the VMAs."

Big Dipper describes his show as "high energy, fun, uplifting, raunchy and full of lots of surprises." He'll be on the stage on Sunday at 4:05 PM.

There's a good chance that Big Dipper will be introduced to the audience by noted drag performer and community activist Honey Mahogany, who shares hosting duties with Sister Roma.

"Hosting the mainstage on Pride Sunday with my dear friend Sister Roma is one of the highlights of my year," Mahogany tells B.A.R. "As someone who was born and raised in San Francisco, this is such a tremendous honor. There is nothing like a Pride celebration. The joy and happiness that exudes out of everyone, the love and the freedom, it is incomparable, and I am happy that I get to play a role in it."

For a full schedule, visit http://www.sfpride.org/
Comments on Facebook