Seth Eisen's 'Out of Site: SOMA,' originally an outdoor performance work celebrating the South of Market neighborhood's LGBT history, has been moved online. The performances will celebrate a wide array of queer people who populated SoMa over the years.
Viewing 1 thru 12 of 134 Stories
From protests to crime and conspiracy shows, reality is reflected in TV fiction. 'Law & Order,' 'Welcome to Chechnya' and even a vogue contest get a watchful eye.
There aren't many up and coming gay singer-songwriters who can say that they were given the seal of approval by queer royalty at the start of their careers. But Dylan Rice can. Styx co-founder and bassist Chuck Panozzo.
Social distancing can be a challenge if you are in a band. It probably gets somewhat easier for musical duos and (possibly) trios.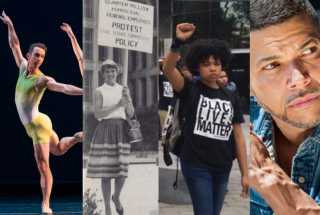 Amid protests and a pandemic, as Pride month gets underway, you can find a bit of relief with a rainbow of arts, nightlife and community events.
In honor of Pride Month, Rotten Tomatoes, the film and TV review website, focuses on several historic LGBT publications' coverage of historic films, including the Bay Area Reporter.
Thirty-eight years ago, Mark Brown, an early organizer in local LGBT softball and bowling leagues, left the organizing group of the inaugural Gay Games. Now he has published a book that shares his perspective on his 'forgotten' involvement.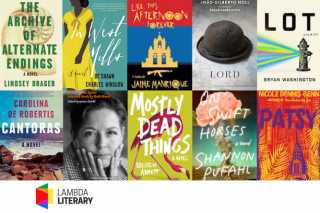 Considered the Oscars of queer publishing, the annual Lambda Literary Awards were not held in person this year, but announced on June 1.
A Queer Serial presents a new series of LGBT-themed podcasts about the pioneering early days of the LGBT civil rights movment.
The Contemporary Jewish Museum presents an online panel talk about the gay poet who helped shape the Beat poet movement.
Join the Smithsonian's Pride Alliance to kick off Pride month with Project Pride - a virtual concert and time capsule of LGBTQ+ culture, with Jake Shears, Big Freedia, Rufus Wainwright, Indigo Girls, Pet Shop Boys and other talents.
From museums to drag shows, male burlesque to Pride stories and film festivals, access upcoming and ongoing online arts, nightlife and community events.
Whitney Houston and Janet Jackson super-hit albums are reissued on vinyl
Viewing 1 thru 12 of 134 Stories