Happy Blursday. When is that Zoom drag bake sale fundraiser string quartet? We'll do our best to delineate one event from another amid the midsummer maskness.
Viewing 1 thru 12 of 470 Stories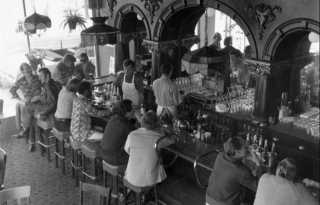 A Castro district institution for decades, the historic Twin Peaks Tavern is the subject of a 2019 documentary, to be screened as an online fundraiser July 10.
Missing SF Opera's summer performances? Tune in on Friday, July 10 at 7:30pm for a 90-minute free digital broadcast showcasing the many musicians, performers, and luminaries who would have shaped our summer season.
Walter Mercado will make you laugh, make you surprised, make you raise an eyebrow or two. And he will bring you to tears with his sincerest wish that you have love, the "Mucho mucho amor" part of the title of the new Netflix documentary about his life.
Along with their weekly cavalcade of online entertainments, host D'Arcy Drollinger takes on current events in a dishy blend of 'Talk Soup' and 'Drag Race.'
Disco icon Sylvester's 'Step II' album has been reissued, and a short online documentary tells the story of his fabulous yet too-brief career and life.
Midsummer mindfulness means enjoying more entertainments at home. Sorry, that's the way it is. Whether you're enjoying or avoiding fireworks, keep safe and enjoy arts, nightlife and community events online.
Although its hit mini-festival is over, Frameline continues to screen ticketed and free films online, including a series of narrative documentary and short films about AIDS.
In one of the more creative stay-at-home projects, gay singer-songwriter Eric Himan offers a sweet tribute to the collective history of our "Local Gay Bookstore."
Tomasz Jedrowski's debut novel 'Swimming in the Dark' tells a time-honored story, gay first love, in a setting that has become all but expected in gay literary fiction: Eastern Europe under the dark clouds of political oppression.
In his memoir 'A Tale of Two Tims: Big Ol' Baptist, Big Ol' Gay, Tim Seelig shares the story of his incredible life, from his roots among devout Southern Baptists, to his work with what is perhaps the most famous gay chorus in the world.
We love comics, specifically gay ones. So when Northwest Press announced its fundraiser for a new graphic novel, we had to spread the news.
Whether you're planning to participate in the June 28 march or watch online events, a stroll or ride up or down Market Street is worthwhile to take in artist Win Mixter's bold series of Pride history works at multiple bus stops.
Viewing 1 thru 12 of 470 Stories