Castro nightlife is back, sort of, including brunch drag shows outside The Edge bar.
Viewing 1 thru 12 of 664 Stories
With an entire literary festival, from readings to panels, all online, the 18th annual Saints & Sinners LGBTQ Literary Festival, usually held in New Orleans, returns with a robust roster on March 11-14.
Two photo books, one new, the other re-issued decades after first being published, show stark differences, and similarities, in the depiction of their subjects.
America's longest continuously-published and highest weekly circulation LGBTQ newspaper will celebrate its historic 50th anniversary edition to be published on April 1. Advertising space reservations for this special issue are now being accepted.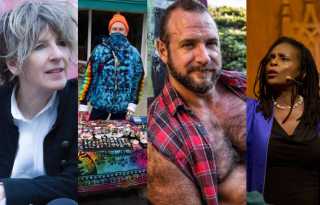 Step into the wonderful world of online arts, nightlife and community events. Take yourself to church, dance along with pros and gogos, or sing along to Broadway stars.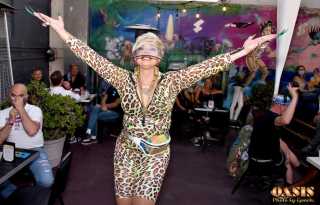 Despite a year of providing entertainment through the pandemic, the drag-focused nightclub Oasis still needs fan support to remain open. So owner D'Arcy Drollinger will host a 12-hour telethon with dozens of performers on March 6.
'Soul of a Nation' explores Black stories, 'It's a Sin' sears with '80s UK gay and AIDS stories, plus 'Tell Me Your Secrets' and 'Men in Kilts' tempt your television time.
Now in her seventh decade as an entertainer, Olivia Newton-John has proven herself to be a versatile artist, including recent duet with her daughter, and a recently published memoir.
In Mike Mosallam's affectionate Ramadan rom-com 'Breaking Fast,' Mo (out actor Haaz Sleiman) is a devout, disciplined Muslim doctor who has reconciled his religious dedication with his queer sexuality.
Sometime it feels like being the DJ on the Titanic II, part desperate distraction, part solemn duty, working to bring you entertainments and the strange dispiriting online version of community. Sometimes it doesn't.
Names like Mo B. Dick and Sexy Galexy will grace your computer screens when Drag King Legends takes to Zoom on Feb. 21 at 5pm. Kings with 25 years or more experience will be honored in a show that promises to be informative, exciting, and entertaining.
Maury Yeston, the composer behind Tony Award winners 'Nine,' 'Titanic,' and what has come to be known as the "other" 'Phantom of the Opera,' has two new recordings of his best and rarely heard songs.
'One Night in Miami...' is a fictional dramatization inspired by true events that bring together four men from different backgrounds whose contributions to Black culture continues to resonate to the present day.
Viewing 1 thru 12 of 664 Stories