We're winding up Pride month with plenty more rainbowl-you-over events.
Viewing 1 thru 12 of 215 Stories
Wake up and taste the rainbow! For malapropism-free arts events, proceed.
DJ Wayne G spun Prideful funky grooves at Brian Kent's Daytime Disco, a scenic airy rooftop party at the Virgin Hotel (250 4th St.) on June 15. Guests enjoyed the views, music and mid-Pride month fun, while some sported glamorous retro attire.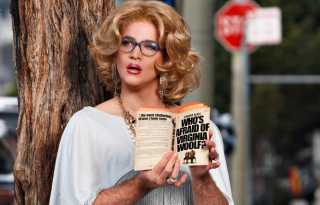 Alleged thespian Martha T. Lipton will be teaching an acting class in the Fez Room at Oasis on June 24. It will be a class like no other, because Lipton is a failed actress.
"Wham!" "Blam!" Thank you ma'am (and sir). On Sunday night, The Richmond Ermet Aid Foundation sponsored its fourth annual Broadway Bares. San Francisco Strips IV, the Comic Strips edition, wowed a sold-out crowd at DNA Lounge on Sunday June 16.
The third annual Clusterfest, presented by Comedy Central, takes over the Bill Graham Auditorium and Civic Center Plaza this Friday through Sunday. The notably diverse three-day line-up features some of the most interesting queer comedians working today.
Full-on celebrations, select nights and ultra-rainbow nights await you.
Frame it, screen it, sing it or conduct it; LGBT-themed arts events blossom in mid-June.
Berkeley Repertory's opening night of comic and playwright John Leguizamo's 'Kiss My Aztec' brought out local luminaries like Rita Moreno, director Tony Taccone, and of course the cast members and musicians in the show.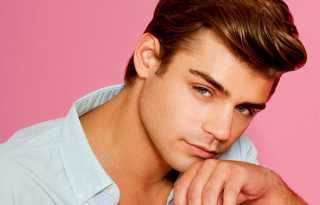 "It's the worst thing to watch someone jerking off their ego on stage," says actor Garrett Clayton, discussing how he came up with his non-jerky shared debut cabaret act which he brings to Feinstein's at the Nikko on June 21 and 22.
Every year for decades men have descended on Chicago over the Memorial Day weekend for an annual leather pilgrimage otherwise known as International Mr. Leather (IML), as did I this past week.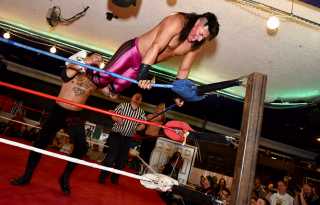 On Thursday, June 13, pro wrestlers fly into the center ring for a Pride event that offers something a little bit different. Pro wrestlers at El Toro's SF Slam10: Pride On The Line, with host Pollo Del Mar!
In chilly summers, leather's comfy, and there's always a lot going on in the San Francisco Bay Area for leather and other kinksters.
Viewing 1 thru 12 of 215 Stories