Divas' denouement: Historic bar to shutter this week
Wednesday Mar 27, 2019
Divas, the Polk district bar and nightclub that had long been a safe haven for the transgender community, will be closing its doors on March 30. The bar will celebrate its many years of service to the community with a closing night party from 10pm to 2am (at 1081 Post Street).

Divas became known for its drag shows, but the bar was so much more. According to manager Alexis Miranda, Divas would also host dinners at Thanksgiving and Christmas, and hold clothing drives.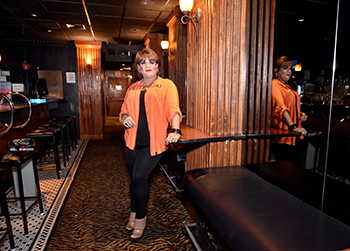 "There'd be a bucket and people would come and donate to the trans girls," Miranda said in an interview at the bar, with the Bay Area Reporter. "The Imperial and Ducal families have held several fundraisers here. We've also done funerals and wakes for the girls and community members who've passed on."

Miranda referred to Divas as a "community resource," pointing out that none of the new bars opening up have any interest in serving their surrounding community.

"So every time a bar closes, you're breaking up a family," she said.

The bar's history goes back to its previous iteration down the street, where it replaced The Motherlode bar, where drag shows entertained and queer people gathered for decades.

Last week, however, the atmosphere was a bit somber when the B.A.R. visited Divas on a weekday afternoon. About a dozen people sat at the first level bar, all of them obviously well acquainted with each other. They talked and laughed, but there was also sadness in the air as they faced the inevitability that the community they had built was coming to an end.

For Empress Marlena, the loss of Divas was doubly sad, as she had closed her own bar, Marlena's, several years earlier. Marlena has been coming to Divas since it opened.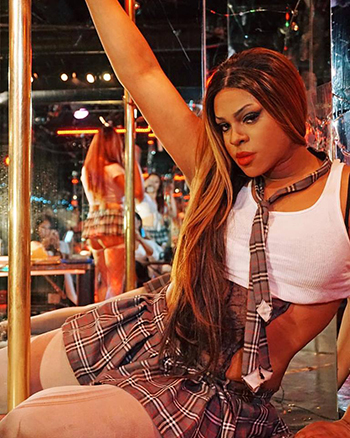 "It's hard to close an establishment that has been open this long and serves the community," Marlena said as she nursed her drink. "I'm a little bit torn. It's really sad. However, we must go on and be strong and support other establishments of our kind. Let's be strong and continue to support our gay community."

Collette LeGrande has been coming to Divas for 20 years.

"This is very sad," said LeGrande. "Divas has been a focal point for the trans community for a long time and I feel bad for Alexis. She made this place what it is. I'm not sure what the girls are going to do, but they'll find something."

Bobby Ashton has been coming to Divas for 15 years, and has performed there.

"This has always been a bar that's been comfortable to come to whether you're gay or trans," Ashton said. "This bar has taken care of a lot of the trans girls. I don't know where they're going to go now."

The building that houses Divas has been up for sale since at least 2014. According to a listing from Vanguard Properties, the asking price for the four-story building was $2,800,000. The 9,120 square-foot building's first floor features a full bar and two bathrooms, the second level is office space, the third floor features a half-bar and a dance floor, while the fourth floor features another half-bar and a lounge.

Representatives for Vanguard Properties did not return repeated calls seeking comment.
The business, with liquor license, was listed at $900,000.

Miranda explained why the bar was closing.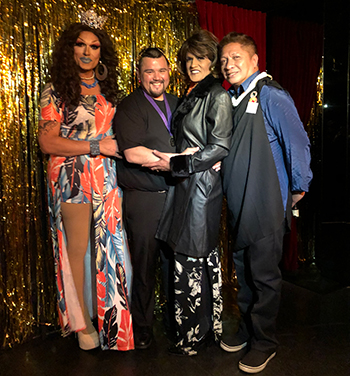 "The current owner has owned it for 20 years," she said. "He's over 70 years old and his health is failing, and so he's decided to sell the building. We tried for the last ten years to sell it to someone who wanted to keep it the way it is, but the money wasn't there."

Miranda noted that the location was purchased by two young brothers who are going to turn it into a bar/restaurant, and that they have no desire to keep the place as it was. She added that she'll miss doing her shows.

"I have the longest running show in San Francisco; 31 years," she said. "I've been here doing my show every Saturday night. Upstairs on the dance floor we have girls who dance burlesque-type dancing and the guys come to see that, and then the dance floor is open on the weekends. On Sundays we have karaoke. As you can see, the bar is flourishing. A lot of people are coming in to say goodbye because they're going to miss this place."

Miranda acknowledged that things have gotten better for transgender women, with many now able to find full-time jobs, whereas years ago they could not. Some have moved out of San Francisco due to the high cost of living in the city.

Miranda said that her own job prospects were looking up, that she was looking into the possibility of two jobs. Two of her bartenders might be able to follow her. She could not say more, she said, until things were finalized.

Miranda added that she felt sad for her customers, and hoped to find investors who were willing to open a new bar that is diverse and non-judgmental. She invites interested parties to message her through Facebook.

But getting a new job or finding a new location to open her own space won't quell the sense of loss that Miranda feels.

"I'm going to miss Divas and our wonderful family that we've created here for years," she said. "I want to thank owner Steven Berkey for keeping the bar open for as many years as he did, and hopefully we will soon open doors elsewhere."
Comments on Facebook