Susan Werner - Somewhere under the radar
Wednesday Jan 16, 2019
Susan Werner is waxing lyrical about Carmen Cusack, the Tony-nominated singer-actress (Bright Star) with whom she'll share a sublime Bay Area Cabaret double-bill at the Venetian Room this Sunday afternoon.

"You'll feel lucky to be in the room with her. She's so skillful it's thrilling. She can snap your heart in two like a sugar wafer."

But Werner might as well be talking about herself.

Check out that phrasing, that instinctive assonance, the sudden summoning of a perfect metaphor.
Over the course of twelve studio albums, the classically trained Werner —who has a fervent live fan base east of the Mississippi— has brought her keen ear and sharp wit to a dazzling range of subjects and musical styles, many of which seem tailor-made for Bay Area audiences.

Hayseed, her suite of tributes to family farms like the one she grew up on in Iowa, finds Werner getting aggro on agri-business, cracking wise about the price of organic produce, and crafting a wistful paean to winter in the era of global warming.

The Gospel Truth, Werner's rousing collection of "spiritual songs for agnostics" has lyrics that could serve as a hymnal at Glide Memorial. Chronicling her conflicted history with organized religion, she questions narrow-minded clergy: "If God is great and God is good/Why is your heaven so small?"

In one of her earliest and most beloved songs, "Uncle John," Werner, a lesbian with several gay siblings, reflects on the recognition and respect of a sensitive niece.

And her two most recent albums find Werner passionately delving into musical genres with huge Bay Area followings, Latin and New Orleans jazz.

Among the hundred-plus original songs in Werner's repertoire, is an ode to North Bay bliss¬, "Petaluma Afternoon,"¬ and what should surely be an anthem of Peninsula nerds, "Recumbent Bike."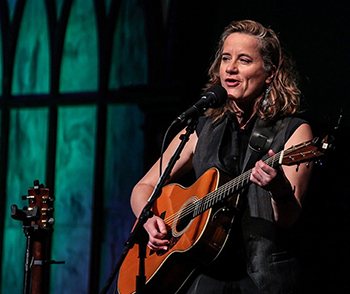 So why isn't Susan Werner the toast of San Francisco?

"I blame Colorado, Wyoming, Utah and Nevada," she half-jokes, acknowledging that the broad swath of highly conservative turf that serves as a bit of a barrier. Based in Chicago and Philadelphia, Werner has had a successful career as a touring performer for over two decades; carefully planned, economically optimized itineraries are essential.

While Werner has occasionally played the Bay Area, primarily at Berkeley's Freight & Salvage, she's a constant presence in the mid-west and on the east coast, where adoring reviews and word of mouth about her shows at venues including Joe's Pub in Manhattan, Chicago's City Winery and the Michigan Womyn's Music Festival have built devoted ticket-buying regional followings.

"I've always made my living playing live," Werner says, noting that between the technological shift to streaming and her genre-fluid musical tastes, "To be a 'recording artist'? That'd just be a very expensive hobby."

But it's another slowly growing branch of Werner's musical career that has brought her the opportunity for her high profile gig in San Francisco this weekend. Years back, a group of Broadway producers attended one of her Joe's Pub performances.

"They recognized that many of my songs end at a very different place than they start; there's a change of heart, or a change of viewpoint. They reached out to me and pointed out that this is the hallmark of theater songs, they move characters forward."

"I'd started out writing pop-type songs and had just naturally moving into this more narrative style. I love the great American songbook and did one album in that sort of cabaret mood [I Can't Be New]; I joked about being Cole Porter's smart-mouthed little sister, Colette."

"But honestly," Werner recalls, "It hadn't occurred to me that I could write for theater. It just dropped in my lap; so weird, like finding out you've got the skills to be a javelin thrower. Who knew? I didn't have a javelin in the house!"

Ultimately, Werner was hired on to collaborate with Academy Award-nominated screenwriter Ron Shelton on a Broadway-aimed adaptation of his hit film Bull Durham. In 2014, the show made a prominent regional debut at Atlanta's Alliance Theater, an incubator for past film-to-stage hits, including Sister Act and The Color Purple.

While that production starred Melissa Errico in the role made famous by Susan Sarandon, subsequent development ("Broadway is a hurry up and wait game," notes Werner) has found none other than Carmen Cusack playing the part.

When Bay Area Cabaret producer Marilyn Levinson, the astute identifier of sophisticated talent who first presented Cusack in concert locally decided to bring her back for an encore, she saw the Cusack-Werner Bull Durham connection as an opportunity to introduce local music lovers to yet another compelling new female talent.

"I'm so happy" says Levinson, "that San Francisco has become passionate about Carmen Cusack over the past few years and that Bay Area Cabaret has been a part of that. And now I can't wait to see the city discover Susan Werner. Her humor, her spontaneity and her versatility are going to win our audiences over."

Susan Werner and Carmen Cusack, Sunday, Jan. 20, 5pm at The Venetian Room at the Fairmont Hotel, 950 Mason St. $65. www.bayareacabaret.org
Comments on Facebook