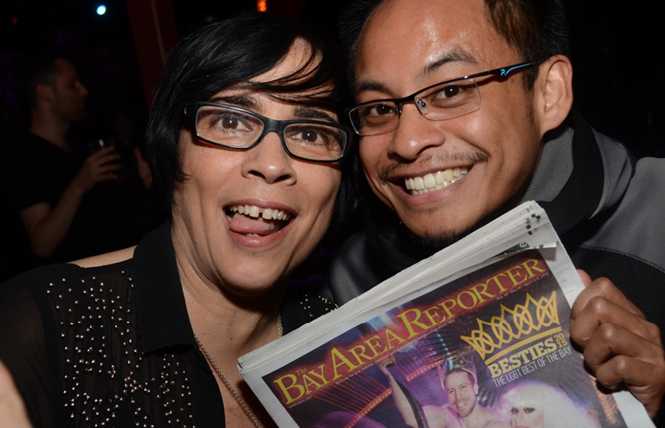 San Francisco is one of 11 US cities that is fortunate to have a legacy LGBT publication by us, for us, and about us. Help preserve the BAR as an historic and important community institution for the future.
Viewing 1 thru 12 of 570 Stories
The arts and nightlife communities have been hit particularly hard, with venues including Oasis and Manny's in San Francisco and The Alice Collective in Oakland seeing their revenue streams disappear overnight.
Like virtually all performing artists, Lena Hall, best known for her Tony-winning turn as Yitzhak in the Broadway run of 'Hedwig & The Angry Inch,' has had her music and acting career set on pause.
When the lockdown finally ends and we're able to get out and about to socialize over our vittles once again, this year's Restaurant Besties will be here to help.
They say absence makes the heart grow fonder. Celebrating the past year and with an eye toward the future, let's bring on this year's Bestie-winning events.
What would queer San Francisco be without our nocturnal animals, the revelers and entertainers and service stars? Let's raise a glass (make it a double), to this year's Nightlife People Bestie winners.
With the closure of bars due to Covid-19, reading about which bars are best in the Bay Area according to our readers may be a bit like looking through the window of a candy shop when it's closed.
Feeling drag-deprived? Many performers are hosting online numbers, but SF icon Heklina's got her own show!
Well, life has sure changed in the past two weeks. COVID-19, also known as the novel coronavirus, has affected all of us dramatically, certainly for the short term.
Continuing our coverage on stay-at-home entertainments, here are multiple options to lift your spirits in pandemic times.
Rachel Garlin's music harkens back to another era. Her soft, gentle voice, poetic lyrics and acoustic guitar conjures up memories of great folk singer/songwriters from a generation ago such as Judy Collins and Joni Mitchell.
Almost all LGBT nightlife spaces in California are shuttered after Governor Gavin Newsom's Sunday directive that bars, nightclubs, wineries, and breweries should close in response to the novel coronavirus outbreak.
With every bar, nightclub, museum and theater closed for weeks, if not longer, you're probably looking for alternative activities to fill your possibly-homebound days and nights. We have some fun suggestions.
Viewing 1 thru 12 of 570 Stories