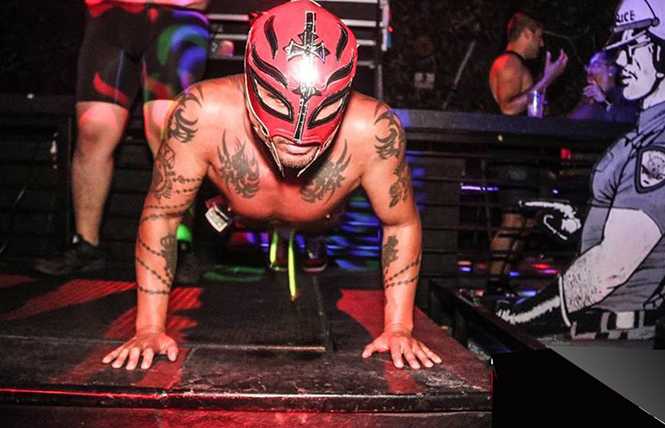 Can you stand the sheer variety of nightlife fun yet to come? What if you closed your eyes and just pointed at the listings page, web or print? Go where you've never been before. Make adventure where you can find it, even in your own zip code.
Viewing 1 thru 12 of 427 Stories
One of the biggest annual local gatherings for leatherwomen took place this past Saturday, the Ms. San Francisco Leather contest at SOMArts Cultural Center.
The GLBT Historical Society and Museum is presenting the exhibition 'SoMa Nights: The Queer Nightclub Photography Of Melissa Hawkins,' curated by photographer Hawkins and nightlife historian Marke B.
Regardless of your relationship status, you can celebrate Saint Valentine for his renegade marriage ceremonies and check out some of these fun events.
Winter has come, and now you're expected to find a date for Valentine's Day, or go solo to one of these fun nightlife events, where you may find love, or lurve, or a few likes. Wear your rubbers.
What's happening in bar, clubs and cabarets? Look here for the most LGBT-inclusive listings in town.
The naughty weekly night at The Powerhouse, hosted by Dulce de Leche and mrPam, includes an underwear contest and gear night.
How are we doing? Unlike the government, nightlife isn't shut down, but it keeps on truckin.'
The Lookout's annual Winter Onesie Party attracted another festive crowd of creative long-underwear-clad patrons in cute outfits, with DJ Matt Effect.
Far too frequently, the leather communities tend to honor and revere tops and doms in a way they do not always bottoms and subs. I've increasingly seen this play out in the non-kinky gay men's world as well.
Susan Werner is waxing lyrical about Carmen Cusack, the Tony-nominated singer-actress (Bright Star) with whom she'll share a sublime Bay Area Cabaret double-bill at the Venetian Room this Sunday afternoon.
Follow a popular New Year's resolution into 2019; sweat off a bit of winter weight on the dance floor, or stack it on at a food truck outside the club. No judgment.
Despite inclement weather, some solid stand-by nightlife events are still standing. Shake it off, get indoors to get wet.
Viewing 1 thru 12 of 427 Stories