Opening Night of Berkeley Repertory Theatre's new musical Paradise Square was followed by a festive cast party, where patrons, directors, producers and numerous local arts luminaries celebrated.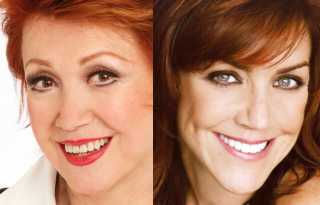 On January 18 and 19 Broadway legends Donna McKechnie and Andrea McArdle will reunite for an evening of song at Feinstein's at The Nikko. The two performers will pay tribute to two songwriting giants: Stephen Sondheim and the late Marvin Hamlisch.
It's been a while, and it may be a while longer before Connie Champagne returns, but her subtle, witty and endearing portrayal of Judy Garland takes place to Oasis on December 15.
The stars shone brightly at the Richmond/Ermet Aid Foundation's annual holiday-themed benefit concert held Dec. 10 at the Marines' Memorial Theatre.
You better think twice if you're expecting anything less than silly fun holiday camp from the consummate piano and vocal duo Amy & Freddy, when they play at Oasis on Sunday, December 16.
It's been 18 years since Aaron Lazar last passed through San Francisco on a Broadway tour. He's in 'Dear Evan Hansen' at the Curran through December 30, and has a solo engagement at Feinstein's at the Nikko on December 17.
As he prepares for his November 30 show at Oakland's Sound Room (which is already sold out) and his December 9 show at Guerneville's Main St. Station, singer, actor and naughty comedian Shawn Ryan answered a volley of questions for the Bay Area Reporter.
Christine Andreas, elle ne parle pas francais. While the acclaimed soprano's Bay Area Cabaret performance, at the Venetian Room on December 2, is a tribute to iconic French singer Edith Piaf, Andreas doesn't speak the Little Sparrow's native tongue.
Lavender Country, the first gay country band, featuring Patrick Haggerty, returns to the Bay Area On Nov. 18. The now-revived band will perform at The Ivy Room with LGBT bands The Secret Emchy Society and Velvetta.
When I attend the Tory Sivan concert Nov. 1, I suspect that some of his millennial fans may cast suspicious sidelong glances at me. "What is this balding guy our fathers' age doing here," they may ask each other. "Is he some kind of perv?"
On September 13, two show business legends will take to the stage of Feinstein's at the Nikko when Liberace And Liza Live! A Tribute comes to the club for what promises to be a gay night of entertainment.
In what's likely to be a classic, only-in-San Francisco juxtaposition, Reichard expects a passel of playa-goers to convene in the significantly more straight-laced climes of Feinstein's at the Nikko not long after the Burn.