Alleged thespian Martha T. Lipton will be teaching an acting class in the Fez Room at Oasis on June 24. It will be a class like no other, because Lipton is a failed actress.
Viewing 1 thru 12 of 36 Stories
Ross Mathews will MC a night of comic insults hurled at Sister Roma, but it's all in fun; the upbeat series regular on 'RuPaul's Drag Race' will serve as a tonic to the Jungle Red claw-like insults from Roma's drag pals on May 18 at the Castro Theatre.
Ginger Minj is "the nicest bitch you'll ever meet," according to Joshua Eads, the actor who plays Ginger. But bitchiness is, in this case, not a sign of nastiness. Ginger performs at Oasis May 9 & 10.
The Sisters of Perpetual Indulgence celebrated Easter Sunday and their 40th anniversary on April 21 by returning to Dolores Park for a well-attended picnic-filled party of thousands.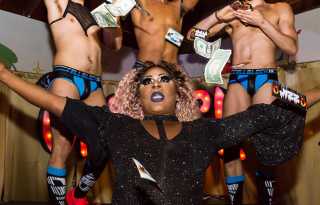 Oakland will be a real drag from Friday April 26 to Sunday April 28 when 100 drag queens, drag kings, and radical queer performers take to the stages in Oakland for a three day drag-a-thon which will include live performances, music, vendors, and art.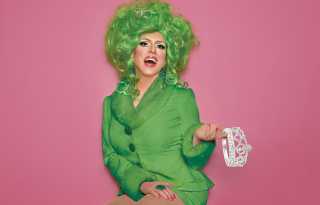 New York drag queen extraordinaire Hedda Lettuce brings her appropriately titled show, Hedda Lettuce: Gives Great Hedda to Oasis on Friday and Saturday, April 19 and 20.
Divas, the Polk district bar and nightclub that had long been a safe haven for the transgender community, will be closing its doors on March 30. The bar will celebrate its many years of service to the community with a closing night party.
Divas nightclub, one of the last vestiges from the days when Polk Street was a major gay and transgender hangout, will close its doors at the end of March.
History sometimes seems ruled by events with unintended consequences. That certainly is the case with the Mardi Gras Ball at California Hall, which happened on January 1, 1965. It's an event that's been called 'San Francisco's Stonewall.'
October was cute, and it was sweet to end it with such gorgeous weather. My two monthly parties at Powerhouse have helped to raise great money for two organizations that I really care deeply about.
He's only eleven years old, yet Desmond Napoles has already made a name for himself with appearances at New York's famed Wigstock, and cutting the opening ribbon at DragCon NYC with RuPaul.
This weekend brings two very different drag shows to San Francisco. At Oasis, tonight through Sunday, legendary comedienne Varla Jean Merman performs her latest solo cabaret act, the circus-themed 'Under A Big Top.'
When I first moved to San Francisco, one of my roommates sold a little coke and meth to help him make some extra cash while working his way through college. By that time, I had already made it through school as a devoted pot smoker.
Viewing 1 thru 12 of 36 Stories