America's longest continuously-published and highest weekly circulation LGBTQ newspaper will celebrate its historic 50th anniversary edition to be published on April 1. Advertising space reservations for this special issue are now being accepted.
Viewing 1 thru 12 of 31 Stories
Get a taste of those fun cabaret shows at Martuni's that we miss so much. The popular martini bar is making do in difficult times by selling a cute variety of gifts items.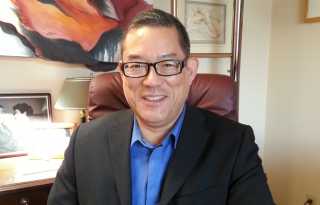 In a continuing effort to receive support from readers, the Bay Area Reporter has launched its membership program.
Visitors to the Castro district on Sunday Sept. 13 enjoyed outdoor dining, drinks and shopping at local stores. Safety and health precautions were heeded as patrons enjoyed themselves while supporting local businesses.
With so many businesses closing, it's great news to learn of an opening. Roma's Ristorante Italiano, which opened on August 4. In a unique nod to the LGBT community, its namesake is 'nun' other than Sister Roma.
The Castro nightclub Badlands at 4121 18th Street will not be reopening, according to a post on its Facebook page.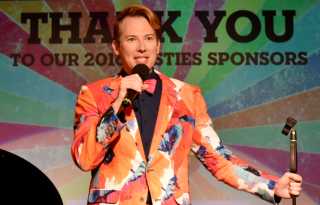 Thank you very much, it has been both humbling and encouraging receiving your generous support when so many are also in need of help. So far, we have raised just over $25,000 and are just 15% away from reaching our goal of $30,000.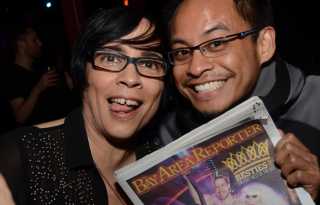 San Francisco is one of 11 US cities that is fortunate to have a legacy LGBT publication by us, for us, and about us. Help preserve the BAR as an historic and important community institution for the future.
With every bar, nightclub, museum and theater closed for weeks, if not longer, you're probably looking for alternative activities to fill your possibly-homebound days and nights. We have some fun suggestions.
2020 started off brisk and witty with costumed 'polar bear' skaters taking to the ice in skivvies, onesies and winter-themed costumes on Jan. 1 at the Safeway Holiday Ice Rink in Union Square, which is open through Jan. 20.
If you're like many people who want to improve their sex and love quotients in the upcoming year, here are few selections for some sexy gifts, whether hung by a chimney or wrapped up with care.
The San Francisco AIDS Foundation's eleventh annual Santa Skivvies Run drew participants out in festive holiday undergear on December 9 for the brisk short run fundraiser around the Castro.
It was quite an icebreaker at the 12th annual opening for the Union Square Ice Rink, a holiday tradition that attracts thousands of locals and visiting tourists.
Viewing 1 thru 12 of 31 Stories