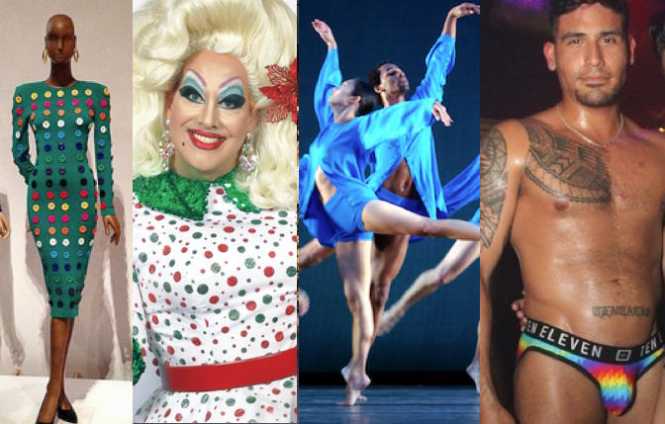 Whether you prefer to cozy up at home for some streaming fun or brave the weather for theatrical or nightlife revelry, we have ample event choices in this week's Going Out, Homing's In.
Viewing 1 thru 12 of 123 Stories
Holiday events and ongoing arts and nightlife shows will warm your spirits like a hot toddy for the soul.
It's the most wonderful time of the year, and now that the Bay Area has reopened, there's plenty to do in December. Here are several ways you can celebrate and have a joyous holiday.
Shining brightly through the seemingly impenetrable recent dark storm clouds, Randy Rainbow burst forth with colorful parody songs and videos that provided endless sources of laughs. He'll perform in SF Nov. 20.
Get your tickets, queue up to the bar, sit down for a live show, or stroll through the latest art exhibit as this week's events unfurl.
The entire Oasis nightclub becomes a stage when a new and innovative production of the 'The Rocky Horror Show' opens on October 7, with D'Arcy Drollinger as the 'sweet transvestite' mad scientist Frank N. Furter.
Bay Area cabaret, rock and concert venues are once again filling their halls with the sound of music and laughter. Oasis, The Masonic, El Rio, Great American Music Hall and other favorite venues offer some terrific talents.
Oasis hosts Michael Phillis' new drag parody show, 'The Hand That Rocks the Crawford,' starring Matthew Martin as Joan Crawford in a mash-up of femme fatale '90s classic films.
Something new is in store for the genteel cabaret audiences that frequent Feinstein's at the Nikko. On July 28-31, two-time Tony nominee Eva Noblezada will premiere a brand new solo set at the club ... and she'll be pole dancing.
Sing-along cruise ship host Matt Yee discusses making the best of the past year, and his upcoming shows at the thankfully re-opened Oasis nightclub.
Heading into the home stretch of Pride Month, many nightclubs, bars and theaters are welcoming indoor patrons, with some outdoor spaces welcoming guests; bring proof of vaccination in most cases. Unfurl, unmask -or not, if you choose- and enjoy.
On June 17 lesbian comedy legend and host Marga Gomez will offer 'Who's Your Mami Comedy: Pride Edition,' with Sampson McCormick, Sandra Valls, Karen Ripley, and Jesus U. BettaWork.
Creatively, I've been very satisfied during the pandemic," says Justin Vivian Bond, who performed mini-concerts at home in upstate New York. Bond returns in-person to Feinstein's at the Nikko June 16-19.
Viewing 1 thru 12 of 123 Stories