GusPresents hosts the new weekly night at the Castro district bar, with pop, circuit music and gogo cuties. The March 6 night included a visit from local drag performer Lady Camden.
Vilen Gabrielyan is a documentary photographer and native of San Franciscan who focuses on subcultures and stories on fringe lifestyles, including his recent subjects, drag performers at the intimate Aunt Charlie's.
'INSIDE PRIDE', the official magazine of San Francisco Pride is now accepting space reservations.
"We used to go to jazz clubs after 2am and drink liquor out of coffee cups. Relations between blacks and whites were excellent. They were glad to have us out in the Fillmore. We were treated like queens, and I don't mean in that sense!"
Members of the Leather and LGBTQ Cultural District and bar patrons enjoyed a South of Market bar crawl on February 6. The entourage visited the Powerhouse, the Hole in the Wall Saloon, the Stud, and the SF Eagle.
Like what you see? See what you like? Along with new nights, we bid a fond farewell to a popular drag night. Vote for your favorites places, people, businesses and nightlife stuff in our annual Besties Readers Survey!
With City Hall and Salesforce Tower lit up in 49ers red and gold, hopes were high on February 2 with football fans at Super Bowl viewings across the Bay Area, including the game-filled Detour (2200 Market St.).
This year marks the 10th annual Bay Area Reporter readers' poll, the Besties, and voting begins Thursday, January 30.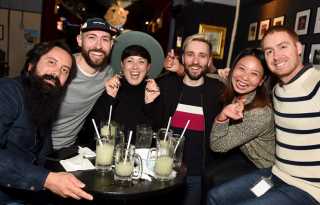 Moby Dick, the longtime Castro district's favored bar for casual gatherings, pinball and pool, is also notable for its beautiful aquarium above the bar.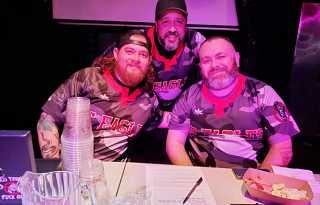 Ask a local San Francisco leather person what they're doing on a Sunday afternoon and you'll often here them say they're going to the beer bust. That typically means the weekly Sunday SF Eagle beer bust.
Are you ready for a new year of nightlife fun? It's arriving, ready or not. Will our '20s be roaring with flappers and bootleg gin? Doubtful. More like floppers on TikTok and bootleg vapes. Either way, Happy New Year.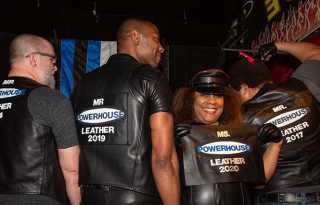 The Powerhouse also held its inaugural Ms. Powerhouse Leather contest recently. I'm using both new contests here as an illustrative point that San Francisco's leather bars are now officially shared space. Welcome to the modern queer leather bar.