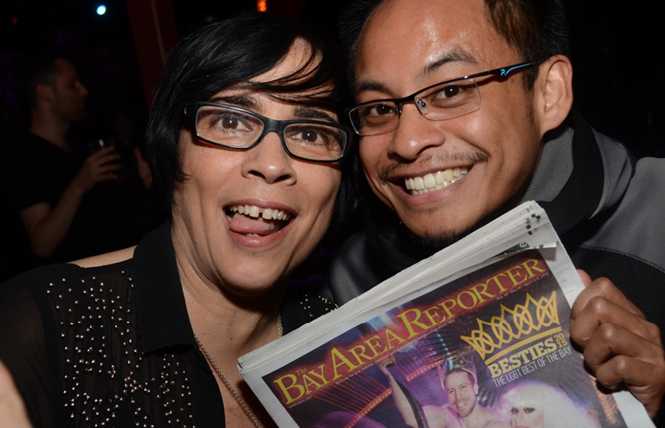 San Francisco is one of 11 US cities that is fortunate to have a legacy LGBT publication by us, for us, and about us. Help preserve the BAR as an historic and important community institution for the future.
Viewing 1 thru 12 of 82 Stories
The arts and nightlife communities have been hit particularly hard, with venues including Oasis and Manny's in San Francisco and The Alice Collective in Oakland seeing their revenue streams disappear overnight.
They say absence makes the heart grow fonder. Celebrating the past year and with an eye toward the future, let's bring on this year's Bestie-winning events.
What would queer San Francisco be without our nocturnal animals, the revelers and entertainers and service stars? Let's raise a glass (make it a double), to this year's Nightlife People Bestie winners.
With the closure of bars due to Covid-19, reading about which bars are best in the Bay Area according to our readers may be a bit like looking through the window of a candy shop when it's closed.
Charlotte Coleman's bars grew from the harassment of the 1950s. But the unintended consequence of losing a job was that she wasn't just a bar owner: she had such business acumen that some of her bars still exist till today.
Almost all LGBT nightlife spaces in California are shuttered after Governor Gavin Newsom's Sunday directive that bars, nightclubs, wineries, and breweries should close in response to the novel coronavirus outbreak.
GusPresents hosts the new weekly night at the Castro district bar, with pop, circuit music and gogo cuties. The March 6 night included a visit from local drag performer Lady Camden.
Vilen Gabrielyan is a documentary photographer and native of San Franciscan who focuses on subcultures and stories on fringe lifestyles, including his recent subjects, drag performers at the intimate Aunt Charlie's.
'INSIDE PRIDE', the official magazine of San Francisco Pride is now accepting space reservations.
"We used to go to jazz clubs after 2am and drink liquor out of coffee cups. Relations between blacks and whites were excellent. They were glad to have us out in the Fillmore. We were treated like queens, and I don't mean in that sense!"
Members of the Leather and LGBTQ Cultural District and bar patrons enjoyed a South of Market bar crawl on February 6. The entourage visited the Powerhouse, the Hole in the Wall Saloon, the Stud, and the SF Eagle.
Like what you see? See what you like? Along with new nights, we bid a fond farewell to a popular drag night. Vote for your favorites places, people, businesses and nightlife stuff in our annual Besties Readers Survey!
Viewing 1 thru 12 of 82 Stories