It's a good thing that Theatre Rhinoceros has been presenting its recent readings and productions in the cozy ad-hoc confines of the Spark Arts gallery on 18th Street.
"The SpongeBob Musical" briefly graced the Golden Gate Theatre last week, touring after its hit Broadway run, then just as quickly swam away. Bubbles trailed in its wake.
"Gatz"'s fine-tuned cast of 13 tells the story of "The Great Gatsby" to audience members, often reading directly from the pages of a passed-around paperback.
The overstuffed plot of "Born in East Berlin" takes place in 1988, when Bruce Springsteen's historic concert on the Communist side of the Berlin Wall served as a harbinger of the following year's epochal change.
In San Francisco Playhouse's "Tiny Beautiful Things," a woman with the pseudonym Sugar dispenses sweet empathy along with tart kicks in the pants.
The West Coast premiere of playwright Lucy Kirkwood's "The Children," now at the Aurora Theater in Berkeley, is dreadful. It's skillful and thoughtful as well.
For a genuinely up-to-date take on urban gay men's friendships and failings, you can thank the New Conservatory Theatre Center for cultivating New York playwright Ryan Fogarty's "You'll Catch Flies."
Why did the chicken cross the intersection of Vapid and Ingenious? To get to the ACT production of Will Eno's mind-tickling "Wakey, Wakey" now eliciting laughter and perplexity at the Geary Theater.
This year marks the 10th annual Bay Area Reporter readers' poll, the Besties, and voting begins Thursday, January 30.
"How To Transcend a Happy Marriage," at the Custom Made Theatre in a run that's been extended to Feb. 16, is again pushing the envelope of monogamous marriage.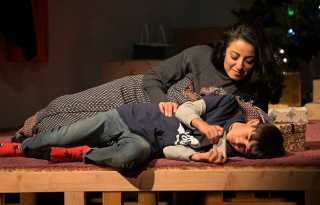 The gut-punching production of playwright Heather Raffo's densely layered "Noura" is now at the Marin Theatre Company.
Jeremy Jordan appears in conversation and concert with kibitzer-pianist-Broadway-know-it-all Seth Rudetsky at the Herbst Theatre on Jan. 19.