If you're a fan of fast-talking, morally complicated characters, don't miss playwright Ike Holter's "Exit Strategy," a bristling ensemble drama now in its Bay Area premiere at the Aurora Theatre Company.
Avery, one of the three movie-theater workers at the heart of "The Flick," has trouble explaining why he so strongly objects to the impending replacement of the decrepit single-screen cinema's 35mm projector.
In this, our second week of the Fall Arts Preview, we offer surveys of what's coming up in Bay Area Theatre, Art Galleries, the San Francisco Opera, Film, and lesbian-created Pop Music this fall.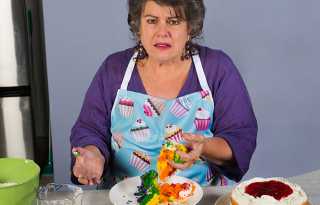 In the spirit of lifelong learning, the Bay Area Reporter has put together a mini-curriculum for theatergoers to immerse themselves in over the months ahead.
If you take the trouble to watch Alfred Hitchcock's 1935 film adaptation of John Buchan's 1915 novel the evening before attending the stage version of "The 39 Steps," it will prove considerably more ingenious.
The annual San Francisco Fringe Festival returns to the Exit Theatre for a 28th year with an eclectic mix of memoir, magic, music and movement on three small stages from Sept. 5-14.
Challenged by production costs, complicated site procurement, and a problematical performance space, West Edge Opera Festival 2019 can still be called a success.
The arrival of farce and slapstick on Bay Area boards seems particularly well-timed for our historical moment.
Provocative, poignant, funny and fleet, "Cry It Out" is a refreshing work of just-slightly-heightened social realism.
Audiences attending "House of Joy," opening at the California Shakespeare Theater this week, can expect swashbuckling action, eye-pleasing pageantry and old-time theatrical thrills.
For comedian Marga Gomez, coming to queer comedy happened at an early age. So it only made sense to put together her own type of live comedy series. "Who's Your Mami?" comedy is coming to Brava Theater Center's Cabaret.
When Tony Yazbeck takes the stage at Feinstein's at the Nikko on Aug. 15 & 16, you'll get the expected singing and storytelling, but you'll also get tap-dancing, a craft infrequently plied on the small-to-non-existent stages of cabaret venues.