During quick breaks between scenes in the thrilling Berkeley Rep production of Suzan-Lori Parks' audacious new drama "White Noise," we hear the play's titular sleep-inducing sound.
"Bloody Bloody Andrew Jackson" is a rock musical originally produced in the year of Obama's first election and now onstage at the Custom Made Theatre Co., through Oct. 27.
You don't expect a show called "Dance Nation" to be about a lack of coordination. But Clare Barron's bold, original play, at the San Francisco Playhouse through Nov. 9, is exactly that.
Even if you've never seen "Top Girls," you've likely heard something about British playwright Caryl Churchill's celebrated 1982 work.
"This Side of Crazy," written and directed by Del Shores ("Sordid Lives"), is now making its world premiere at the New Conservatory Theatre Company.
Northern Irish playwright Francis Turnly's "The Great Wave" is now in its American premiere at the Berkeley Rep, directed by Mark Wing-Davey.
"Caroline, or Change" is more than the title of Tony Kushner and Jeanine Tesori's ingenious sung-through musical, now playing in a not-to-be-missed Ray of Light Theatre production. It's an aphorism we'd be well to heed.
If you're a fan of fast-talking, morally complicated characters, don't miss playwright Ike Holter's "Exit Strategy," a bristling ensemble drama now in its Bay Area premiere at the Aurora Theatre Company.
Avery, one of the three movie-theater workers at the heart of "The Flick," has trouble explaining why he so strongly objects to the impending replacement of the decrepit single-screen cinema's 35mm projector.
In this, our second week of the Fall Arts Preview, we offer surveys of what's coming up in Bay Area Theatre, Art Galleries, the San Francisco Opera, Film, and lesbian-created Pop Music this fall.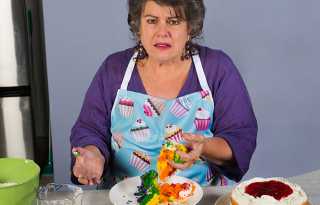 In the spirit of lifelong learning, the Bay Area Reporter has put together a mini-curriculum for theatergoers to immerse themselves in over the months ahead.
If you take the trouble to watch Alfred Hitchcock's 1935 film adaptation of John Buchan's 1915 novel the evening before attending the stage version of "The 39 Steps," it will prove considerably more ingenious.