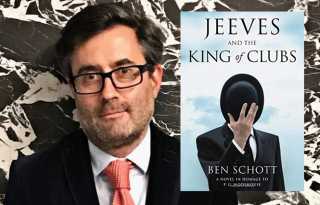 A new "Jeeves" novel is always an event in Out There's reading life, even if it's not one written by P.G. Wodehouse.
Jerry Herman, an incomparable gay Broadway composer-lyricist who wrote three of the greatest American musicals, died of pulmonary complications on Dec. 26 at the age of 88.
The Cockettes will be celebrated at the Victoria Theater on Jan. 4 when "Cockettes Are Golden: A 50th Anniversary Celebration" takes to the stage.
The main character of "Becky Nurse of Salem" is a fictional descendant of Rebecca Nurse, one of five real women hanged for witchcraft in the famed trials of 1692.
"The Letters of Cole Porter" weighs in at over 650 pages with notes, but it's really meant to be read in toto only by scholars and Porter completists, so the general reader can feel okay about selective skipping.
The best thing about the new Go-Go's-songs musical comedy "Head Over Heels," now playing the New Conservatory Theatre Center, is that it isn't a jukebox musical at all.
Among LGBTQ people, Ian McKellen is almost God.
"Harry Potter and the Cursed Child" is now playing an open-ended run at the Curran Theater in its first North American production since opening on Broadway last year.
"Summer" has arrived at the Golden Gate Theatre, and with it a bumper crop of corn.
For a happily childless adult, Out There sure does see a lot of "family friendly" theatre and entertainment appropriate for children.
Taking a San Francisco-spirited underground approach to seasonal programming, San Francisco Playhouse has exhumed the critically admired but short-lived recent stage adaptation of the 1993 Bill Murray film "Groundhog Day."
Caryl Churchill's 1979 play, "Cloud 9," a poly- and chrono-morphously perverse comic drama, splits its two acts between 1880s Africa and 1980 London.