The Lavender Tube loves Lightfoot
Tuesday Apr 9, 2019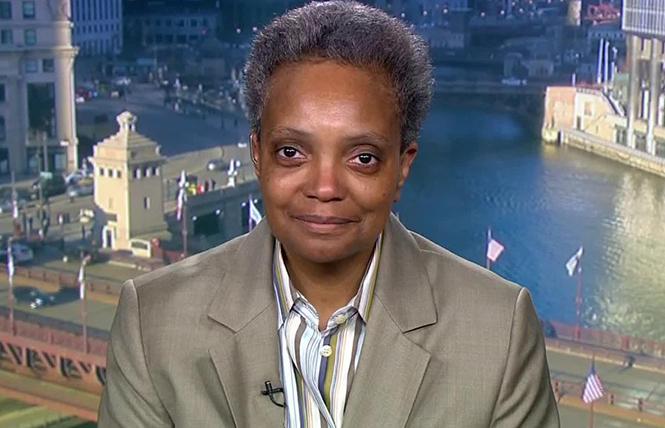 The best thing we saw on TV this week was Lori Lightfoot kissing her wife, Amy Eshelman. Lightfoot was elected as Chicago's first black woman and first out LGBTQ mayor in a landslide victory. An outsider candidate, Lightfoot ran against the infamous Chicago Democratic machine as a strong progressive. So Lightfoot's win, with 70% of the vote across all 50 of the city's wards, was declarative. Watching her tour the networks on the morning shows after her win was the best political moment since the midterms. We haven't had many wins in the Trump era, and this was definitely one of them.
Lightfoot told CNN's Don Lemon (how cool was it to have the country's only out black gay anchor interviewing the country's first out black lesbian mayor?) that her win was "historic, and it's very gratifying." She said, "Being the first black woman and first lesbian to lead the city is monumental. This is something obviously that we've been talking about, the historic nature of the election, for some time."
Lightfoot said, "It would've been a remarkable thing to see a black lesbian leading the city" when she was a child. She grew up in Ohio and attended universities in Michigan and Chicago. "It would've been something that I talked about with my parents and my classmates, and I hope our children are watching. I want to make sure that kids all over the city and all over the country understand that they can do anything that they set their minds to do, as long as they've got good, strong support from adults and love."
The last out big city mayor was former Houston mayor Annise Parker, now president and CEO of the Victory Fund and Institute, which works to elect LGBTQ candidates. Parker, who was in Chicago campaigning for Lightfoot on Election Day and at her victory party, spoke to NBC about Lightfoot's win. "A black lesbian taking power in the nation's third-largest city is a historic moment for so many communities that are too often ignored in American politics." Parker said, "Lori will certainly remain focused on the issues facing Chicago, but as the highest-ranking LGBTQ person ever elected mayor of an American city (a title she takes from me) she is also now a key leader in the movement to build LGBTQ political power nationwide."
We take these wins when and as they come. This was a big one. Seeing Lightfoot, Eshelman and their 11-year-old daughter Vivian at the victory party was a moment we got to share and savor.
Eye spy
The "Queer Eye" guys went political April 4 & 5 in the surge to try and finally get the Equality Act passed. Four of the show's Fab 5 (minus Karamo Brown) went to Washington and dropped in on some folks at Capitol Hill to advocate for the passage of the Equality Act, legislation meant to ensure federal protections for LGBT people.
On April 4, Speaker Nancy Pelosi tweeted out a selfie with the guys and Rep. Alexandria Ocasio-Cortez from her office with the message, "@QueerEye: Feel free to let us know when you want @RepAOC & me to fill in next. #Fab5"
AOC sent out several pics of herself and the four "Queer Eye" celebs, noting, "On Capitol Hill, we wear pink!" and, "Justice happens together!"
Along with Pelosi and Ocasio-Cortez, "QEs" Antoni Porowski, Tan France, Bobby Berk and Jonathan Van Ness met with several members of Congress. Antoni posted a pic of himself with AOC on Instagram with the message, "Both of us previously waiters. Today, one of us is championing for the Violence Against Women Act, ending the privatization of prisons, enacting gun control policies and abolishing U.S. Immigration and Customs Enforcement, while the other regularly contemplates what kind of cheese to end the day with. Guess who's who?"
Berk posed with AOC for an Instagram pic. He offered to help AOC style her D.C. apartment after she admitted she still hadn't furnished it yet, and was sleeping on a mattress on the floor.
Van Ness shared a video on Instagram of himself wearing a hot pink sweater, pleated tie-dye skirt and fabulous shin-high boots a shiny magenta metallic on one side and black-and-white polka dot matte on the other. Van Ness was walking with AOC, who was wearing a fuchsia pantsuit and black V-neck. Van Ness declared, "Never been more proud." We so approve that message and that outfit.
The Equality Act would introduce an amendment to the Civil Rights Act prohibiting discrimination based on sexual or gender identity. On a panel at the Library of Congress, Van Ness said, "Depending on the state in this country you can be fired for all sorts of things, you have discrimination at jobs, you have discrimination in school. We have the most diverse American Congress ever, I'm lifted up in seeing that a United States that values equality and protection for all is currently fighting for that." He hinted at his choices for president, noting, "We're making it rain pantsuits and equality in 2020." Yes.
Van Ness also posted a photo of himself in front of the Washington Monument with the caption, "There is currently no legal protection at the federal level for LGBTQ people in the United States. Learn about & Pass the #EqualityAct."
Several lawmakers posed with the four queer celebs,
including House Majority Leader-Maryland Congressman Steny Hoyer. Hoyer, tweeting a pic from the balcony outside the Capitol with the Washington Monument in the background said, "Proud to be part of the #Fab5, even briefly. Thanks to the cast of @QueerEye for stopping by today to urge support for the #EqualityAct. As Majority Leader, I look forward to bringing #HR5 to the Floor to ensure #LGBT Americans are fully protected under our civil rights laws."
California's own Rep. Judy Chu posted several photos of herself with the "Queer Eye" contingent. On Twitter she said, "The @QueerEye Fab Five have taught us to love ourselves. Today in DC we talked about needing to love others as well, through legislation like the Equality Act to promote LGBT rights, VAWA to protect women, and ending the war in Yemen to protect lives."
The "Queer Eye" group also posed with Rep. Sean Maloney, who tweeted their pic with, "Outfit: @QueerEye approved." Van Ness had his hair pulled back and was wearing a different skirt in a black-and-white pattern, with a gray turtleneck. We loved seeing Van Ness harken back to Ye Olde Radical Fairy days with his in-your-face queer styling. We hope those skirts and boots set the GOP swooning.
We are so ready for a Netflix AOC and "Queer Eye" special, with a cameo from Pelosi. Mostly, though, we appreciate "QE" traveling to D.C. on behalf of all of us. We really were left Verklempt by it all.
And we were Verklempt from the April 4 season finale of "Will & Grace" as well. A five-hankie event (spoilers ahead), Jack & Estefan's Big Gay Wedding got re-routed to the airport when their flight was grounded. Fortunately, legendary drag queen Miss Coco Peru was flying through and could officiate. She greeted Jack with "You big, gay bitch!"
Grace came to the conclusion she and Noah were not meant to be right before a chance meeting with a handsome stranger. McCoy's job offer to be an anchor in London made Will worried that a long-distance relationship would break the couple up, but McCoy (Matt Bomer, devastatingly handsome) was way ahead of Will on that and proposed to Will during the wedding. And advice from Smitty made Karen reconsider her commitment to Nikki and her own sexual orientation.
There were some adorable moments with Jack & Estefan, who are sweet together and so, so queeny. We love that. And since we hated how Grace was being treated by Noah, we were glad to see that relationship end.
But we really wanted Karen & Nikki to be a thing. The previous week Karen had said of her sexual experiences with Nikki, "Presidentially speaking, I prefer Bush to Johnson." It will be painful to let genius lines like that go.
Kudos to the writers who positioned Karen in front of the PA system to tell Nikki (and the entire airport) "I'm straight," in a reprise of Ellen's coming out to Laura Dern 25 years ago the same way. As the statement echoes throughout the place, Miss Coco sashays in and says, "Oh no, children could hear that!"
The wedding itself was jubilant and joyful. On Twitter, Miss Coco wrote an emotional coda to how we felt. "When I created Coco, it was unimaginable that TV would have gay leads, gay marriage would be a reality, and a queen from the Bronx could be on a network show! Lucky to be back on @WillAndGrace! Delights me that this Bronx girlboy 'performed' a gay marriage on a gay show on TV." Delights us too, Miss Coco!
Sean Hayes isn't leaving "W&G," but he is part of a new Netflix project. The streamer has greenlit a 10-episode series order to "Q-Force," an adult-themed animated comedy centered on a gay James Bond-esque secret agent. Yes. The series is the baby of producer Mike Schur ("Brooklyn Nine-Nine"), so he already does gay, and Hayes. The half-hour project is "about a handsome secret agent and his team of fellow LGBTQ superspies. Constantly underestimated by their colleagues, the members of Q-Force have to prove themselves time and again as they embark on extraordinary professional (and personal) adventures," per Netflix, which declined to tell us whether Hayes will voice the lead character.
All these fabulous moments notwithstanding, the world really has been waiting for the return of "Game of Thrones" for its final season. If you're a "GoT" devotee, this is your time. Relish it, feel the dragon breath and hope that there can be something else in your future that will measure up to the sheer monumentality of the Lannisters and Starks or life in Westeros and Essos. While it often feels as if we are living a real-life "GoT," it will be hard to let the series go after lo these many seasons. So enjoy while you can. And gird your loins for the finale to end all finales.
While the dark doings of "GoT" play out on HBO, "Killing Eve" returns for a second season on BBC, and we are so here for it. Sandra Oh's Emmy-winning eponymous performance in the dark comedy-thriller lesbo-erotic series is reason enough to be waiting for season two. But there is so much more. Jodie Comer's charmingly sociopathic assassin, Villanelle, is riveting.
This show really is female-badass-driven. While there are substantive second-tier male characters, it's the two principles, along with Fiona Shaw's acerbic Carolyn Martens, head of the Russian section of MI6, that propel all the action. It's fabulous. The second season began April 7, with lots of repeats. You can watch season one on Hulu and BBC. "Killing Eve" was developed by the spectacular Phoebe Waller-Bridge ("Fleabag") and is truly one of the best series available.
So too is "Hanna," a new original series from Amazon, based on the 2011 film. Feral kids continue to be a big draw, and in this year of the spy thriller, "Hanna" is equal parts high-concept thriller and coming-of-age drama. The 8-episode series, just greenlit for a second season, follows the journey of an extraordinary young girl raised in the forest as she evades the relentless pursuit of an off-book CIA agent and tries to unearth the truth behind who she is. Deeply interior and atmospheric, "Hanna" has "The Killing"'s Mireille Enos (Marissa), and Esme Creed-Miles as Hanna.
Hanna was part of a government experiment with the usual super-race stuff. So she has skills. She's been living in the forest and off the grid with her pseudo-dad Erik (Joel Kinnaman). It's been a childhood of the survivalist arts as well as honing her super-race abilities. Enter Marissa (Enos), using the entire compendia of intelligence-agency resources to track Hanna and end her. But Hanna has that eerie skill-set, so she can hear a leaf turn from a mile away and hear birds breathing. There's some faltering as the series adds a subplot that is the coming-of-age part, but hopefully that gets excised in the second season.
If you aren't watching FX's new series "What We Do in the Shadows," why not? This hilarious, deeply queer, super dark comedy about a bunch of vampires and their friends is killer. We've re-watched the first two episodes 10 times and catch more nuance each time. The players are magnificent, the settings spectacular and every time the group decides to just turn into bats and fly off, it's truly surprising and LMAO funny.
Written, created and produced by New Zealand comedians Taika Waititi and Jemaine Clement, the series is based on their 2014 film of the same name. It's is set in Staten Island and follows three vampires who have been roommates for hundreds of years. After an unexpected visit from their ancient Master of the Old Country, they must find a way to conquer Staten Island for the vampire race before he awakens from his slumber. The description of how the lead vampires missed the dictate to conquer Staten Island is beyond hilarious. This is an utterly fabulous series that is pitch-perfect. Check out the trailers.
"Better Things" is also back on FX for another season, this one darker, more sexual and more deeply invested in Sam's (Pamela Adlon) attempts to have a life separate from her mother and kids. Can it happen? A tragi-comic sexual encounter with her ex at his hotel room suggests the path may be rocky. "Better Things" is one of the most consistently real comedy-drama series we know. We never come away from it not thinking about the issues Adlon continues to raise about how we achieve (or don't) intimacy with others, and how hard it is to land in one's 40s without crashing.
So for all the good things and trying not to think about the bad ones, the end of days on "GoT," but hopefully not our nation and a little touch of fantasy to keep us thriving, you know you really must stay tuned.
Comments on Facebook