She kissed a girl!
Tuesday Mar 26, 2019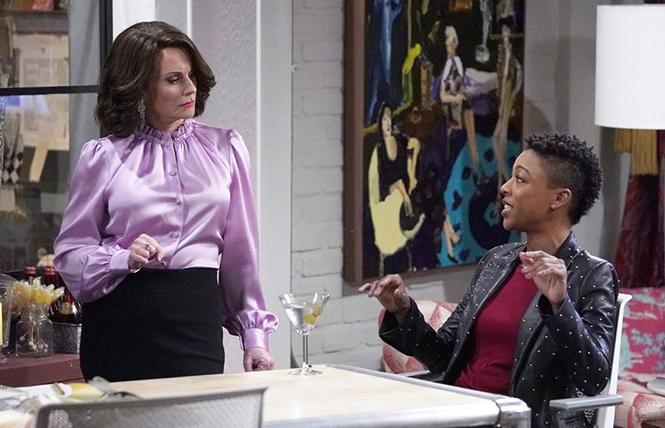 For years we have wondered if Karen (Megan Mullally) on "Will & Grace" was really bisexual, or if that was just a trope. On the March 21 episode we discovered she is. She kissed a girl, and she liked it.
When Karen gets snowed in at the office, Nikki comes by from her own office upstairs above Karen's, and a real 1970s-style consciousness-raising evening begins. Karen talks about her various male lovers and how there has always been an imbalance in the relationships. There are jokes, of course; it is Karen, after all. When Nikki tells Karen she's a lesbian, Karen says, "Oh. A vagitarian." But mostly it's serious, engaging, and not a little poignant. When Nikki asks Karen who takes care of her, Karen says she takes care of herself, including in sex, when she has to "make her Venus Serena." Nikki says, "I did not see that coming." Playing Nikki is the always-powerful Emmy-winning Samira Wiley, of "Orange Is the New Black" and "The Handmaid's Tale." Wiley is an out lesbian.
When Nikki sees the snow has stopped, she tells Karen and says she should call her boyfriend to come take care of her. Karen says she's being taken care of right now. Nikki leans over and kisses Karen, and the live audience swoons.
The entire episode was about coupling. Will's and Grace's respective partners — the gorgeous Matt Bomer, who spent 90% of the episode in bed in a black tank showing off his arms and chiseled everything; and the all-middle-aged-now David Schwimmer — want their relationships to move to the next level. But can Will and Grace stop being each other's protective shield long enough to take a risk on love at whatever age they are claiming to be?
Meanwhile Jack gets caught in an elevator, is rescued by an old flame, and eschews cheating because he's getting married soon. Is this the new Jack? Have the relationship-averse quartet decided it's time to admit to middle age and let themselves be open and vulnerable to another person? Time will tell, but we are looking forward especially to seeing where Karen and Nikki go.
"Brooklyn Nine-Nine," which is so cozy in its spot before "Will & Grace," introduced Rosa Diaz's (Stephanie Beatriz) girlfriend Jocelyn, played by the real-life lesbian comedian and podcaster Carmen Esposito, on March 21, and it was delightful. We don't get to see enough butch lesbians on TV, and we were pleased that the show decided not to try and femme her up. More, please.
Can "RuPaul's Drag Race" be on every night? This season's Rusical happened March 21, and oh my goodness. RuPaul has always been intensely political. SF's own Speaker of the House Nancy Pelosi has even appeared on the show in the past. So it wasn't a real surprise that this season's Rusical was (wait for it) "Trump: The Rusical." The queens outdid themselves. Although there is a great deal of satire out there about the president none of us wanted, this was pure "Drag Race." If you missed it, catch it online.
"Project Runway" is back, baby, and on its original network, Bravo, after 11 seasons on Lifetime. Everybody's fave reality show took a yearlong hiatus in 2018, but is back with a whole new look. Gone are fan-fave hosts Heidi Klum and everybody's favorite straight-laced queen, Tim Gunn. Klum and Gunn have signed a deal with Amazon Video to host a different design show. We will keep you updated on that.
It's hard to believe that "Project Runway" is now in its 17th season, but it is, it debuted in 2004. The only leftover from the series we have long loved is Nina Garcia, editor-in-chief at Elle, now the grande dame among the judges, the only one over 35. The new judges are Karlie Kloss, the crazy tall Midwestern entrepreneur and supermodel who has been on a bazillion covers and is Taylor Swift's bestie; Christian Siriano, the flamingly gay designer who won "Project Runway" 11 years ago, and has since dressed Michelle Obama, Victoria Beckham and Lady Gaga; Elaine Welteroth, editor-in-chief of Teen Vogue, only the second black woman to hold that title in Condé Nast history; and rising star designer Brandon Maxwell, who has dressed Michelle Obama, Oprah Winfrey, Jennifer Lawrence, Jane Fonda and Viola Davis. So it's the millennial "Runway," more edgy, current and political.
Maxwell told Refinery 29 on March 21, "One thing that really bonds us together as judges is that we've all been vocal in our own careers about issues we want other young people to understand. We took that seriously." Both Maxwell and Siriano have been advocates for more diversity on the runway: it's not all white and not all rail-thin in their shows. Siriano helped introduce affordable fashions, and is one of the few designers designing for plus-sized women. Welteroth has turned Teen Vogue into a serious political magazine, saying she wanted "anyone who picked up the magazine [to see] themselves, on the masthead and in the stories." Kloss has a surprising side interest: coding. She has a nonprofit to get more girls into tech. There are 16 contestants this season, and they are diverse, among them a Syrian refugee; another, a mother of nine doing her own 2.0. "Project Runway" will still have you screaming from the sofa. But it's not just about the clothes, it's about how those clothes fit into our diverse world.
We apologize for being a little late to the party that is the incredibly gay "The Other Two," but who knew it was so funny? The Comedy Central series is about fame, sibling rivalry, and other things. Aspiring gay actor Cary Dubek (out bisexual Drew Tarver) and his sister Brooke (Helene Yorke), a former professional dancer, find their place in the world while wrestling with their feelings about their 13-year-old brother Chase's (Case Walker) rise to internet fame as Chase Dreams.
Complicating things is their mother Pat, played by "SNL" alum Molly Shannon, who just starred in a new film about Emily Dickinson, playing the very lesbian poet. Mom tends to forget about her children who are not Chase, hence the title. "The Other Two" was created by longtime "SNL" head writers Chris Kelly and Sarah Schneider. Beck Bennett, current "SNL" cast member who does a mean Putin, plays Brooke's boyfriend, Jeff. Some of the queer icons on the series are Wanda Sykes and Andy Cohen.
There are running gay jokes about "W&G" star Debra Messing and "American Horror Story" star Billy Eichner. There are jokes about Gus Kenworthy, "Queer Eye" star Antoni Porowski, "Real Housewives," Ryan Murphy and other things for a gay audience, because yes, many of the writers are gay. "The Other Two" is LOL funny. The good news is, you can watch it online. Better news is that it was just renewed for a second season.
'Empire' falls?
How will "Empire" address Jamal come next season, if there is one? The Jussie Smollett incident has had an impact, and ratings have plummeted. Fox could cancel it just to get rid of the headache. The show's creator Lee Daniels posted on Instagram on March 20, the first time since the alleged hate crime attack on Smollett. "These past couple of weeks have been a freaking rollercoaster," Daniels said. "We have (me and my cast) experienced pain, anger, sadness and frustration. Everything has happened, what you're seeing tonight, prior to the incident," referring to scenes currently airing that feature Smollett, filmed prior to the attack. In the wake of the investigation, "Empire" cut Smollett from the last two episodes. "The show was made to bring America together, to talk about the atrocities that are happening right now in the streets."
Smollett has been charged with 16 felony counts, one for each time he told police he had been assaulted. The actor has pleaded not guilty and maintained his innocence. The story got stranger on March 11. TMZ broke the story that the brothers who were alleged to have attacked Smollett and around whom the Chicago Police Dept. built their case against Smollett admitted the check Smollett gave them was indeed for personal training.
The Osundairo brothers Ola and Abel were initially accused of perpetrating the attack. Changing their story alters the entire narrative built by the CPD about Smollett. One brother was an extra on "Empire," the other was Smollett's personal trainer. The brothers now acknowledge that Smollett wrote the $3,500 check to them for training, as Smollett has always asserted. This is a game-changer, as it confirms Smollett's version of events and leaves the CPD without a storyline.
The brothers' attorney Gloria Schmidt revealed the new info on ABC's "GMA." "GMA" had aired the exclusive interview with Smollett and anchor Robin Roberts in February when he spoke about the attack. Schmidt told "GMA" the check was for training, and that the brothers staged the attack as "a personal favor" to the "Empire" star. Who doesn't stage a crime for a friend? The CPD case was built around the theory that Smollett had paid the brothers with the check to stage the attack. In a long, televised press conference on Feb. 21, Chicago Police Superintendent Eddie Johnson had insisted that the check was payment for the attack. Johnson asserted that Smollett had staged the attack on himself in a bid for more money for "Empire" role because he was "dissatisfied with his salary." But as Smollett's attorney told CNN's Anderson Cooper in an interview on "AC360," there's no evidence that Smollett was dissatisfied with his pay at the hit Fox drama.
Geragos said Smollett never mentioned his salary to anyone at "Empire." He never asked for more money, nor did he contact his agent to ask for more money. High-profile Chicago attorney Terry Sullivan told ABC News, "What you have is a police department and prosecutors obviously mad at him for embarrassing the city, so they took every one of his lies and made it into another count." Geragos also questioned why the Osundairo brothers were never charged in the attack as accessories.
Smollett had also reported a threatening letter sent to him on the "Empire" set containing a white powder, a week before the alleged attack. The letter is currently in the FBI crime lab for analysis, sources said. The grand jury made no mention of the letter, the other linchpin in the CPD's case against Smollett. Johnson stated that when there was insufficient response to the letter, Smollett staged the attack. There is no evidence of that.
Smollett's supporters have not wavered. Queen Latifah, featured on Daniels' Fox series "Star," told Yahoo News, "Until somebody can show me some proof otherwise, I'm going with him. The guy I've seen has always been someone who cares about people, who cares about others. That's just the guy I know. So until I can see some definitive proof, which I haven't seen yet, I gotta go with him."
After the March 14 hearing for Smollett, Geragos told reporters, "Jussie adamantly maintains his innocence, even if law enforcement has robbed him of that presumption." In an exclusive interview with "EW" March 21, "Empire" showrunner Brett Mahoney addressed the decision to cut Smollett from the season's final episodes: "It was a very difficult decision, but in terms of allowing the cast and crew to get the work done without disruption, and allowing Jussie the time to deal with what he's been confronted with and to focus and prepare his case, this seems like the logical decision."
Finally, the Democratic candidates are rolling out their policy (or lack thereof) as well as their personal pizzazz in a series of town halls on CNN and MSNBC. If you missed Pete Buttigieg, the first out gay man to run for president, his town hall was superb, and is available online. He talks about how being an out gay in the White House would change things up.
The age spread among the candidates runs from Buttigieg, the youngest at 37, to Bernie Sanders, the oldest at 77. The town halls give a good sense of how the candidates fare while being publically grilled. Buttigieg is very comfortable on stage and knows his material. He didn't miss a question.
Sen. Elizabeth Warren (D-MA) and Sen. Kirsten Gillibrand (D-NY) are the two most progressive candidates, based on their voting records and policy. Gillibrand has been a staunch fighter for LGBTQ issues, notably now, pushing back hard against the trans ban. Sen. Kamala Harris (D-CA) leans more center-left, but her March 19 appearance on "Jimmy Kimmel Live" was a reminder of how intensely charismatic she is. Check your listings for the town halls.
So for the butch, the femme and the flaming queens, the comedy, the tragedy and Matt Bomer's beauty, you really must stay tuned.
Comments on Facebook