Bringing gay issues to the front burner
Tuesday Mar 12, 2019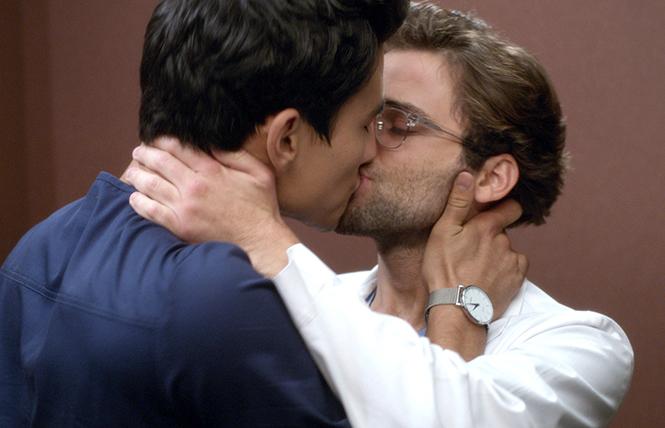 We're so exhausted by the current political discourse and the daily Sturm und Drang in Washington. After we watch Erin Burnett's "Out Front on CNN" every night after the national news, we try to retreat into the safety of non-political TV as a break from our day job, which is writing about politics and the unending corruption, scandal, racism, misogyny, homophobia, transphobia and whatever else spews forth out of the Trump White House on any given day.
We watch Burnett because she doesn't pretend not to be disgusted with Trump, she's unafraid to call out GOP Trump flunkies, and she often will just laugh out loud at the BS purveyed by these apparatchiks on her show. That said, she also holds the Democrats/left accountable and asks critical questions that need answering, like addressing the recent controversy over Rep. Ilhan Omar (D-MN) and anti-Semitism.
Burnett also has strong, solid left female contributors on her show, among them Joan Walsh from The Nation; April Ryan, whom the National Association of Black Journalists named their journalist of the year in 2017; and Symone Sanders, who was Bernie Sanders' press secretary in 2016. Keith Boykin, who was the highest placed openly gay person in any White House during the Clinton administration, is one of her inner cadre.
We used to watch Chris Matthews, because MSNBC is supposed to be more left, but it isn't. Matthews has never been sanctioned for his #MeToo issues, and his misogyny is hard to stomach. So we don't. Burnett is one of the best anchors of any news show. We can't recommend her opening Trump takedowns highly enough.
While sometimes we will watch Anderson Cooper after Burnett, more and more we find that scripted TV and cooking shows keep us centered. TGIT on ABC has always been a necessity.
We had some misgivings about the 15th season of "Grey's Anatomy." So many new faces. Missing some of the old ones, especially Dr. Arizona Robbins (Jessica Capshaw), who had been a lesbian mainstay for over a decade. We're not sure why the series couldn't find a decent relationship for Arizona post-Callie (Sara Ramirez), or why her fabulous character was written off, but this is a constant problem for scripted TV. At least they didn't kill her, which is how most lesbian characters leave a series.
What "GA" did, instead of finding someone new for Arizona to be lesbians with, was to introduce a gay male couple, the first in the show's 15 seasons. Dr. Nico Kim (Alex Landi) is drop-dead gorgeous, and Dr. Levi Schmitt (Jake Borelli) is adorable. Together they seem an unlikely match, yet they are wholly believable. Moreover, their relationship allows "Grey's Anatomy" to do what so few series are doing: watch a gay male couple fall in lust, then love, in real time.
Starting every episode with the half-naked gay boys is a new thing on "Grey's Anatomy," and the March 7 episode was no different. We are all in for this. Young gay men have sex all the time in real life, but not on TV. The neutering of gay men by TV has been bugging us since "thirtysomething," so seeing Nico and Levi going at it like rabbits has been refreshing as hell. The March 7 episode unpacked more about the couple, which keeps their story front-burner. Levi told Nico he loved him. That Nico was in fact his first love. Levi has had trouble coming to terms with his gayness, and it's felt totally realistic to us.
When Levi's mother called him while the two were stealing some time in the on-call room, Levi shushed Nico. Things spiraled from there, as they so often do with new relationships. Levi revealed that he wasn't trying to hide Nico, but rather that he hadn't told his mother because he didn't want her overprotectiveness getting in his head. So it wasn't about Levi being ashamed of the gayness or that Nico is Asian, but that he wanted time to settle into his relationship.
As with Arizona and Callie, "GA" knows the audience loves this couple, so they aren't being hidden on the back burner. While Owen, Amelia and Teddy deal with Teddy's utterly unbelievable had-sex-once-at-49-and-got-pregnant-and-was-totally-unconcerned-about-the-possibility-of-birth-defects pregnancy (it's a medical show: do better!), Nico and Levi are having this remarkably un-fucked-up relationship that is aspirational and joyful and hot.
What we like most about Nico and Levi is how open and honest they are with each other. We need to see that believable Gen Z interaction after decades of seeing the various takes on gay male relationships that are all about brokenness, and rarely about prideful gayness. We need to see representations of gay male coupling that show us men can have love and desire in the same room.
We certainly have loved the presence of Mitchell and Cam on "Modern Family" for the past decade. They have influenced the straight viewing audience about gay men in many ways. "Modern Family" is reliably hilarious, and watching Mitchell and Cam be gay parents has been an important life lesson for millions of Americans. But that representation has come at a cost: In order to make Mitchell and Cam palatable, they had to be de-sexed.
So while we are sad that this is the last season of the series, we aren't going to miss that element one bit. We have always disapproved of the sexual neutering Mitchell and Cam had to undergo to be an acceptable prime-time gay couple. We see them in bed together all the time because we know they never have sex. While Claire and Phil are always trying to have sex, and Jay and Gloria have had a baby together even though Gloria is in her mid-40s and Jay is in his mid-60s, Mitchell and Cam are never seen being sexual. Flaming queens, yes. Sexual, no.
This failure to show gay male couples being intimate segregates gay couples from other couples. "Grey's Anatomy" is doing it right, "Modern Family" has been doing it wrong for a decade.
Fire drill
We can't watch "Station 19," so even though it is back while "How to Get Away with Murder" goes on hiatus so Viola Davis can work on getting another Oscar or Tony to go with the ones she already has, we just can't watch shows about fires. We miss "HTGAWM" already. That was a bangin' season finale on Feb. 28. That show knows how to leave us wanting more , and how to do gay and lesbian and bisexual relationships. And the fires are metaphorical, not literal.
"Station 19" does have gay characters, btw, if you can watch a show where people get burned alive and crushed to death, which we cannot. Same for "Chicago Fire," so it's not just this show, which we really wanted to like because it has a Latina lead, and out gay director Paris Barclay is part of the show and we love him, but we have enough horror in our life, so no fires thank you.)
So we switched to NBC for the hour between "GA" and "For the People," which also has queer characters, to watch "Brooklyn Nine-Nine" and "Will & Grace," and it was a nice gay hour full of laughs. "W&G" also reinforced the fact that gay and bisexual people get older but still have sex. Will and Jack are pushing 50 hard, and Karen is pushing 60. We need these representations of ourselves on the small screen, just like queer kids need to see themselves represented. For too long lesbian and gay characters stopped existing after they turned 40. While we have the dailiness of the 61-year-old Ellen DeGeneres in her 16th year on "The Ellen DeGeneres Show," Anderson Cooper and Don Lemon on CNN, and Food Network's Anne Burrell (all fine middle-aged gay role models), we've been missing that age group on scripted TV.
The news this week was that LGBT people are 4.5% of the population. It looks like a lot more from where we sit, but even if it is that low a number, we still aren't being represented appropriately on the tube. Which is why we need more LGBTQ people behind the camera.
We had misgivings about watching HBO's "Leaving Neverland," but it was a riveting and disturbing 236 minutes of documentary deconstruction of Michael Jackson's pedophilia. Jackson has been such a beloved figure in American music and a friend to many of our allies, like Elizabeth Taylor and Liza Minnelli, it's always been hard to believe the rumors were true. It was always easier to see Jackson as a tragic figure than a man who groomed children.
"Leaving Neverland" made it impossible to maintain that illusion. The stories Wade Robson and Jimmy Safechuck tell of their abuse is graphic and believable. Their explanation of how long they loved Jackson and how much they believed he loved them back makes their continued association with him all the more understandable, and painful to witness.
In her hour-long special following the initial airing of "Leaving Neverland" on March 3 & 4, "Oprah Winfrey Presents: After Neverland," Winfrey said, "I know people all over the world are going to be in an uproar and debating whether or not Michael Jackson did these things, and whether these two men are lying or not lying. But for me, this moment transcends Michael Jackson. It is much bigger than any one person. This is a moment in time that allows us to see this societal corruption. It's like a scourge on humanity. If it gets you, our audience, to see how it happens, then some good would have come of it."
Winfrey has long been an advocate for sexual abuse survivors. In 1989 she revealed on her talk show that she was sexually abused as a child. That revelation was groundbreaking for abuse survivors because of her celebrity. Winfrey praised director Dan Reed for the film. "I taped 217 episodes [of 'Oprah'] on sexual abuse. I tried to get the message across to people that sexual abuse was not just abuse, it was also sexual seduction." Winfrey said Reed was "able to illustrate in these four hours what I tried to explain in 217."
Reed's comments on the film reinforce Winfrey's interpretation, supported by myriad studies, that sexual abusers groom their victims to make them feel loved and "special." Reed said, "What people find it difficult to understand, and what I've always found while making this film sort of difficult to understand and very shocking, is the deep attachment formed between the abuser and the abused with this kind of grooming pedophile activity. So both Wade and James were in love with Michael, even after the sexual activity stopped. They continued loving him and he was a close friend, particularly to Wade, for many years." Both Robson and Safechuck said they believe Jackson was in love with them, too.
These are painful revelations. Jackson is a revered and iconic figure, the King of Pop. But Robson was 7 and Safechuck 10 when the alleged abuse began. Children. "Leaving Neverland" is a powerful documentary. It's grim viewing, but really don't miss it.
In a recent interview on NPR's "Fresh Air" about the third season of her hit FX dramedy "Better Things," which premiered March 7, creator Pamela Adlon talked about disengaging from co-creator Louis CK after she learned of his sexual abuse of women comedians. She explained how it took her a long time to come to terms with it, that the most painful part was knowing that "women got hurt."
We thought of that as we watched the premiere of the series that has so much queer happening on it and felt grateful. We love Adlon's quixotic show and we've seen other women friends of Louis CK dismiss his behavior, which is why it continued for so long. Adlon refusing to do so was what we needed to hear.
The fact is, one can find consensual partners. It may take more time than grabbing someone off the street or locking them in a room with you, but it's doable. The March 6 episode of "Chicago Med" dealt with the aftermath of an incel assaulting a woman who turned him down for coffee, and the way the men viewed the assault vs. the women was telling. The men saw the perpetrator as a victim of women who refused his advances, whereas the women viewed him as a predator. Yet the woman who had initially rejected him felt guilty because her friend had been hurt in the attack. This is how women and other victims are made to feel, as if it is their fault these assaults happen.
The #MeToo movement has taught us that victims — women, men, teens, children — are traumatized by non-consensual sexual acts perpetrated against them. "Surviving R Kelly" and "Leaving Neverland" tell stories we need to hear: the voices of recovering survivors. These documentaries aren't entertainment, but they are critical because so many of us are survivors of sexual assault and child sexual abuse. The percentage of victims among LGBTQ people is far higher than for straight cisgender people. Every time any victims get to tell their stories, we get closer to justice for all victims.
When Gayle King interviewed R Kelly last week on "CBS This Morning," he flew into a rage and stood above her screaming. We feared for her safety and later heard Oprah, her bestie, had called the network asking why they hadn't protected King from Kelly's violent outburst. Watching Kelly act out in such a manner on live TV, one could only imagine his actions at home, behind closed doors, with young women more than 30 years his junior who are in his thrall.
There is a lot to unpack about sexual abuse and assault in America. TV is doing it piece by harrowing piece, but it is not nearly enough as the stories we have seen reveal. So for the drama, scripted and unscripted, as well as the much-needed gay love stories and comic relief, you know you must stay tuned.
Comments on Facebook