Designated (music) driver
Tuesday Jan 22, 2019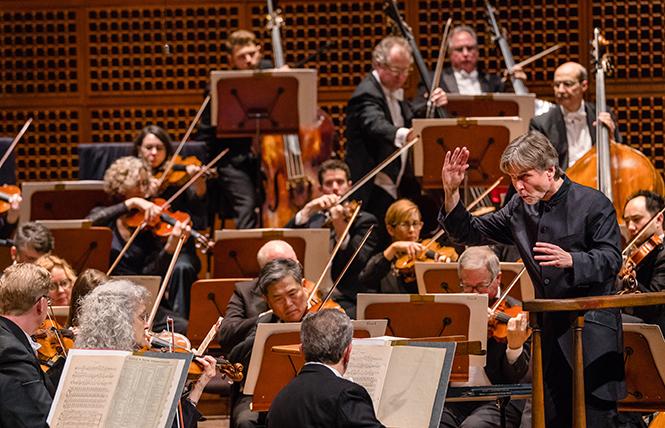 There was a certain electricity in Davies Symphony Hall last Friday night as Esa-Pekka Salonen conducted the San Francisco Symphony for the first time since his appointment as Music Director Designate was announced at the end of last year. Out There and music writer Philip Campbell were in the house, and we found ourselves caught up in the hearty Golden Gate welcome at concert's end when the audience showed its love for our new leader in loud, long ovations.

The program began with the West Coast Premiere of Icelandic composer Anna Thorvaldsdottir's "METACOSMOS," an imaginative sonic landscape, then luxuriated in Richard Strauss' famous tone poem "Also sprach Zarathustra," where Salonen showed what he can do with symphonic textures. But the real heart of the program came after intermission, with Jean Sibelius' "Four Legends of the Kalevala," Opus 22. This is Salonen's fellow Finn composer Sibelius' treatment in four movements of episodes from the "Kalevala," a collection of ancient Finnish epic myths, so you might say Esa-Pekka has it in his very bones. The presentation and the music-making were masterful.

Salonen will return as Music Director Designate in the 2019-20 season to conduct at least two weeks of concerts before beginning as Music Director in September 2020.
Anti-biography

Mystery lies at the heart of the work of elegant, taciturn, enigmatic gay American artist Cy Twombly (1928-2011), as it does of the man himself, who was averse to publicity, interviews or explanations of his abstract, ground-breaking art. Author Joshua Rivkin's exploration "Chalk: The Art and Erasure of Cy Twombly" (Melville House) attempts to get at the riddle of his life and art, but largely falters. "This, dear reader, is not a biography," Rivkin admits early on. "This is something, I hope, stranger and more personal."

Partly Rivkin is making the best of an impossible situation, as the Cy Twombly Foundation, with the artist's male partner Nicola Del Roscio installed as its president, keeps close guard over all aspects of its subject, "offering or denying access to images and information, attempting to manage which narratives are considered worth telling." So we get the biographer embroidering on what facts he does learn, and conjecturing. Did Twombly destroy some early canvases because of bruised feelings over his ex-lover, the artist Robert Rauschenberg? "Perhaps it had something to do with the start of Rauschenberg's romantic relationship with Jasper Johns. It's hard to read Rauschenberg's description of trading ideas with Johns and not imagine Twombly, excluded from their inside talk, jealous and apart."

This curious approach to biography is perhaps well-suited to its subject, whose canvases can seem like mere scribbles, graffiti, or gnomic utterances from an addled psychology. But as one patron puts it, Twombly "managed to put down unconscious mind" in his art. Rivkin notes that the "pictures never seem far from their making." The images are "dense accretions, a lattice of illegible calligraphy. Twombly's work swerves from playful to meditative to literary, as if this range is proof of a brave and restless mind." He sees the artist's ambition as an attempt "to collapse the very definition between a drawing and a poem."

Gay poet Frank O'Hara wrote of CT's art: "A bird seems to have passed through the impasto with cream-colored screams and bitter claw-marks." It's hard to imagine the art-world's acceptance of the genius of Keith Haring or Jean-Michel Basquiat without Twombly's first forays into this frontier. It's hard to imagine the sub-genre of word paintings, say those of Christopher Wool or Ed Ruscha, without Cy getting there first.

But "Chalk" promises an examination of the life, and there are huge lacunae in the telling. Rivkin sees Twombly "recovering [his Southern] aristocracy in Italy," where he married and lived much of his life, but he can't get close to his relationship with Del Roscio, to whom, after all, he entrusted his work and his reputation. Rauschenberg eventually owned up to a gay identity; CT always seemed more ambiguous. In the end Del Roscio denied Rivkin access to the artist's archives, and it shows.

So the author resorts, chapter after chapter, to conjecture, peering from the outside in. This trope repeats, again and again, "like the endless loops in Twombly's blackboard paintings." Perhaps one day there will be a fuller account of the life; this is not it.

Oliver remembered

Arts correspondent Tim Pfaff writes, "A little more than a year ago, Ruth Franklin took to the pages of The New Yorker to come to the defense of lesbian poet and nature mystic Mary Oliver, who died in her home in Florida on Jan. 17 at the age of 83. The 'book' on critics' attitudes toward Oliver was that her forthright work was marred by sentimentality and a vague spirituality. It was a life-long self-portrait minus the convex mirror. That hadn't stopped The New Yorker itself from publishing the Pulitzer Prize-winning poet's work over the decades.

"Countless legions, a large portion of them queer, didn't even know there was a controversy and greeted every new Oliver poem and volume like a tablet brought down from the mountain. Unsurprisingly, the poem most quoted in tributes from her readers has been 'Wild Geese,' a kind of ode against shame. 'You do not have to be good,' it begins. The lines most quoted were her rejoinder: 'You only have to let the soft animal of your body love what it loves.'"
Comments on Facebook