Shorts attention span: Frameline44 short films in comedy, romance, documentary and animation
Monday Sep 14, 2020
Short film programs have long been a popular favorite with Frameline patrons. They not only bring succinct stories to the screen, but also give fledgling filmmakers a first look at their talents.

Animation Shorts; we're drawn to them! But animation these days includes a variety of dazzling technologies. Works from Hawaii, Wales, France, Brazil, China and the U.S. include a diverse array of topics. Sept. 19, 11am

The Bi Candy Program brings bisexuality onto the screen in comic stories, even musical genres, funerals and pandemic lockdowns. Sept. 21, 6:30pm

Enby Love: Non-Binary Shorts not only represents gender fluidity, but unusual stories of a fencing team (Parry Reposte), an artist enduring office life (2 Dollars), a visit to a gynecologist (These Thems), and a trans teen fairy tale (My Brother Is a Mermaid). Sept 23, 8pm

Encounters: International Short Dramas focuses on repression and liberation around the world, with Tribunal (a gay Afghan asylum seeker), Babydyke (a Danish girl with a crush), The Edge (pizza delivery becomes a rooftop refuge) and the Spanish inter-generational Encounter. Sept. 20, 11am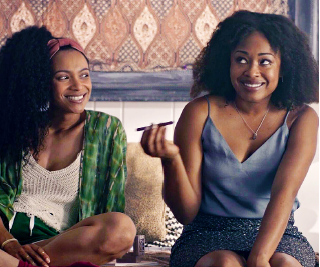 Bay Area filmmakers get their limelight in the Homegrown program. Black Oakland teenagers fight to make art in Nico Opper and Shannon St. Aubin's When I Write It. Lavender Panthers cofounder Rev. Raymond Broshears' story is told in That Was Ray. Queer skateboarders, including US Olympic Skateboarding team member Leo Baker, are featured in Carving Space. Sept. 27, 11am

Realness & Revelations includes works about queer and trans lives in Canada, Pakistan, Nigeria, and Puerto Rico. Asian American women share high school stories, a young man discovers an unusual boat party, and an Indian trans woman hopes to become a star. Sept. 19, 9pm

The Up Close & Personal lineup covers queer musicians, migrants and survivors of Argentina dictatorships, exploring body positivity, lesbian road trips, lost footage of drag performer, a haunted house, and a bit of art therapy. Sept. 26, 11am

A September 26 virtual gala and live auction rounds out the second-to-last day of programming with celebrities, performances, and a tempting array of auction items.

To view the full schedule and purchase tickets, visit www.frameline.org.

Help keep the Bay Area Reporter going in these tough times. To support local, independent, LGBTQ journalism, consider becoming a BAR member.