South Bend's rising star Pete Buttigieg
Friday Mar 22, 2019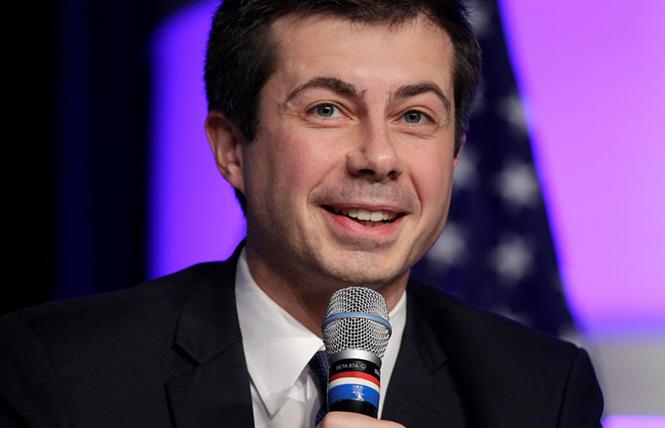 You can judge both the book and the subject by the cover of Pete Buttigieg's new autobiography, "Shortest Way Home: One Mayor's Challenge and a Model for America's Future" (Liveright). At 37, the out, gay-married, two-term mayor of South Bend, Indiana is characteristically rolling up his sleeves, planning a run for President in 2020.

In a CNN Town Hall on Sunday, March 9, Buttigieg (pronounced BOOT-edge-edge, in three elided syllables) arrived onstage with his sleeves rolled up and regularly got up out of his chair to answer audience questions, despite Jake Tapper's nagging him to sit down. His galvanizing performance netted him an immediate $600,000 in donations and drew jaw-dropping responses on Twitter from high-level political operatives and gay literary luminaries alike.

Most important, he left an audience of ordinary Americans agog at the clarity, depth, candor and composure of his answers. Hearing clear-headed, concrete, slogan-free political thought without dodging or hesitation and in complete grammatical sentences with abundant warm humor and palpable hope hit his audience like a drug and a salve. He allowed that if it hadn't been for politics, he'd probably have been a novelist, naming James Joyce (the book's title comes from Joyce) as a favorite. His writing has that same pretention-free mastery.
The nerdy son of English teachers, he left home (not angrily) to explore the world, ultimately to find his way back to a life that fulfilled him while vigorously erasing his town's name from the list of America's failed cities. Yet more interesting than his adventures is his take on them.

As an undergraduate at Harvard, looking at pictures of the illustrious alumni, it occurred to him that it would once have been Ivy Leaguers' privilege to serve in the military: JFK, PT-109 and all. Service brought them elbow-to-elbow with their actual fellow Americans. So Buttigieg enlisted in the Naval Reserve, where he rose to lieutenant and was called up for active duty in Afghanistan for nine months during his mayorship. A pitch-perfect example of his humor is his report that when he enlisted, his minor in Arabic was recorded as aerobics instruction, and left uncorrected by him.

Because of the Arabic and the skills he picked up in what he called an "unforgiving" two-year Rhodes Scholarship in PPE (Philosophy, Politics and Economics) at Oxford — where he learned the practical value of precision thinking and the application of finely honed data — in Kabul he spent as much time in Humvees (an Indiana product) than behind computers. He notes that if he were elected, he would be the first president since George H.W. Bush to have served.

At McKinsey and Company he learned both to crunch really big numbers and to see them big-picture. A humbling defeat in a run for state treasurer became his boot camp in politics, followed by his equally unlikely win as mayor, at 29, in 2011.

The book never drags, but the richest stuff takes place in South Bend. Dealing with everything from potholes to an all-too-typically crumbling Midwestern downtown, with assistance he acknowledges, he turned the city around. A vital first link with the neighboring University of Notre Dame came by way of a mutual project to devise a modern, data-driven wastewater management system for South Bend.

There must be some Mark Twain in Buttigieg, too, because he narrates both the grind and the symbolic pomp of mayorhood with the lure of a fireside tale. He took it as a civic duty to play the solo piano part in "Rhapsody in Blue" with the town orchestra.

He says that, such as there were rumors about his sexuality, they were that he might be asexual. "Inconveniently," he writes good-naturedly, while running for his second term for mayor — in Governor Mike Pence's Indiana, recently ostracized by much of the country for Pence's blatant anti-LGBT legislation — it was also time for him to come out publicly, to have a life. He won with 80% of the vote. The sections on coming out, meeting and marrying his partner Chasten are the book's warmest.

"Like South Bend in 2011, the Democratic Party in 2016 was in need of a fresh start," he writes in a book that's almost polemics-free. "Many of the party's greatest weaknesses were in areas where it seemed I was uniquely able to help. The party was struggling to engage young people, it was out of step with areas like the industrial Midwest, and it was failing to prioritize the hard work of government and party-building at the state and local levels. Who better than a millennial, Midwestern mayor to try to guide the party in in a better direction?"
Comments on Facebook