Remembering Jerome Robbins
Tuesday Feb 12, 2019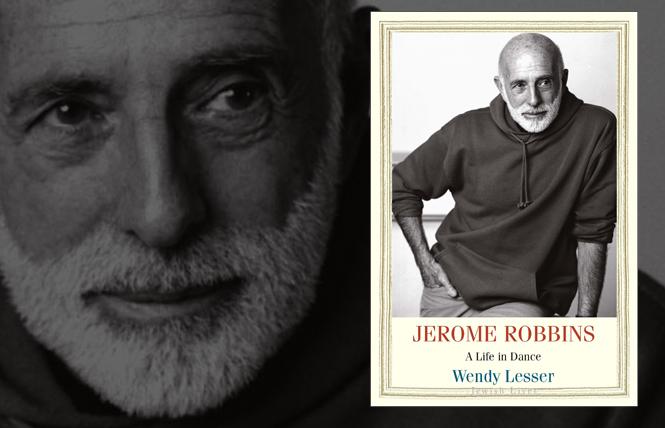 Wendy Lesser, in her well-researched analysis of Jerome Robbins, writes in her introduction, "He may well have been the most hated man on Broadway. 'Mean as a snake,' said Helen Gallaher, a performer who worked with him on several shows, and her words echoed the abundant testimony of others." Thus her book, "Jerome Robbins: A Life in Dance," published by Yale University Press as part of its "Jewish Lives" series, is no love letter. Lesser bravely faces the contradictions that made Robbins both an artistic genius and a tortured, angry perfectionist who could be a terror-ridden collaborator. Last year was the centennial of choreographer Robbins' birth as well as the 20th anniversary of his death, fitting occasions to reevaluate his career and influence. Lesser, a critic and founder-editor of The Threepenny Review, acknowledges her concise book is not meant to be a traditional biography, but an extended, well-argued thesis, using personal anecdotes and incidents, that Robbins' ballets, which many pundits have seen as inferior to his Broadway work, need to be reexamined and appreciated as his greatest achievement.

Lesser sketches the basic outline of Robbins' life. He was born Jerome Wilson Rabinowitz in 1918 on the Upper East Side, where his Russian-Jewish immigrant parents owned a kosher delicatessen. Several years later, they moved to Weehawken, NJ, and opened the Comfort Corset Company, hoping Jerome would continue the family business. His father was distant and unaffectionate, while his mother rarely gave him her approval despite Jerome desperately seeking it, even faking a phone call to an orphanage to come pick him up. But by age 17, he began working with Gluck Sandor, who ran a dance group and convinced him to change his name to Jerome Robbins as well as study ballet. By age 20 he was resident choreographer at Camp Tamiment in the Poconos along with other aspiring creative artists.

While performing in Broadway musical revues he met George Balanchine, founder of the new Ballet Theater (later the American Ballet Theater). Because he had received a 4F deferment from military service, admitting he had engaged in homosexual experiences, he was free to both dance and choreograph new ballets, such as "Fancy Free" in 1944, about sailors on shore leave, with his friend Leonard Bernstein providing the musical score, later transformed into the hit Broadway musical "On the Town." He swayed back and forth between Broadway and ballet for the next 25 years, but after 1969 concentrated solely on ballet. He choreographed such classics as "Peter Pan," the masterpiece "West Side Story" (also co-directing the film and winning an Oscar), "Gypsy," and "Fiddler on the Roof."

In his original ballets he was influenced by Balanchine, but according to Lesser, they failed to get the attention they deserved, because they were seen as lowbrow, populist, and too story-driven for the abstract ballet world, at best considered second-tier to Balanchine, the god of ballet. Still, his ballets "Afternoon of a Faun," "Age of Anxiety," "The Concert," "The Cage," "Dances at a Gathering," and "The Goldberg Variations" were hits during their time, and are now considered classics. Lesser feels Robbins belongs alongside, not behind Balanchine as one of the greats of 20th Century ballet. Last spring the New York City Ballet showcased a major retrospective to honor Robbins' centennial.

In 1953, due to his early 1940s membership in the Communist Party, he was called to testify before the House Un-American Activities Committee (HUAC), where he named colleagues and longtime friends, a mistake both he and many in the arts community could never forgive. In 1975 he committed himself to a mental hospital for depression. In the 1980s he dedicated himself to the fight against AIDS, writing a ballet, "In Memory Of," to commemorate those who died of the disease, took care of ill friends, and organized the major 1987 "Dancing for Life" benefit. He received the Kennedy Center Medal of Honor in 1981. He died of a massive stroke on July 29, 1998.

Lesser explores his relationships with both women (particularly the tragic dancer Tanaquil Le Clerq, later afflicted with polio) and men (including a three-year romance with actor Montgomery Clift before he left for Hollywood), though the latter lasted much longer and were more frequent than the former. Robbins was afflicted with guilt about being homosexual and Jewish. One wishes Lesser had spent more time correlating how Robbins' ambivalence about his sexuality impacted his creative work (especially as a brilliant outsider challenging and satirizing dancing conventions); his notorious HUAC testimony, which he later confessed was due to his fear of being outed and ruining his career; and the way he bullied dancers and actors with insults, vicious outbursts, and cruel, unrealistic expectations. Amazingly, many dancers did love him, praising his helping them discover their conception of a role, inspiring their imagination and motivation, conscious of the dancer's impact on the audience, who participate in deciphering the emotional meaning of the ballet.

Lesser gives detailed descriptions of Robbins' ballets and musical numbers that will appeal to dancing aficionados, but will be less thrilling to those not as technically inclined. Still, most readers will concur with Stephen Sondheim's assessment that "Jerry was the only genius I've ever met, my definition of genius being endless invention. The end product was always worth it."
Comments on Facebook