"Levi Strauss: A History of American Style," a new exhibition at the Contemporary Jewish Museum, has a promising backstory.
Japanese manga artist Gengoroh Tagame is well-known for his intricate drawings of men tied up in various forms of Japanese-style bondage and rope play.
"Dawoud Bey: An American Project," co-curated by Corey Keller, opened at SFMOMA last week, and it's a winner.
Tilda Swinton has curated her first art exhibition, a photography show named for "Orlando," a fable she has called a "wild goose chase of a fantasy" and a "magic carpet ride."
This year marks the 10th annual Bay Area Reporter readers' poll, the Besties, and voting begins Thursday, January 30.
"Collage is the connective tissue for all the work I do," says queer black artist Rashaad Newsome. The medium, coupled with movement and a propulsive soundtrack, informs his videos.
"Handsome Drifter," Ron Nagle's first survey in 25 years, is now at BAMPFA.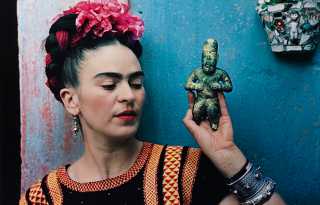 The big news of a year packed with a surfeit of retrospective exhibitions is the transformed Asian Art Museum, whose grand opening is slated for May.
It's a brand-new year, and the Asian Art Museum is right in the moment by unveiling its completely transformed collection galleries with new installations.
Ah, what to say of 2019? It was relatively free of fireworks splashed across the arts news, glaring missteps or stand-up-and-shout museum exhibitions.
"Soul of a Nation: Art in the Age of Black Power" is the most overtly political exhibition the Fine Arts Museums have presented in recent memory. It's an export from the Tate Modern, London.
A quick jaunt to San Jose brought Out There many happy hours of art enjoyment. The San Jose Museum of Art is currently showing a handful of special exhibits.