Art & pleasure trip to San Jose
Tuesday Nov 19, 2019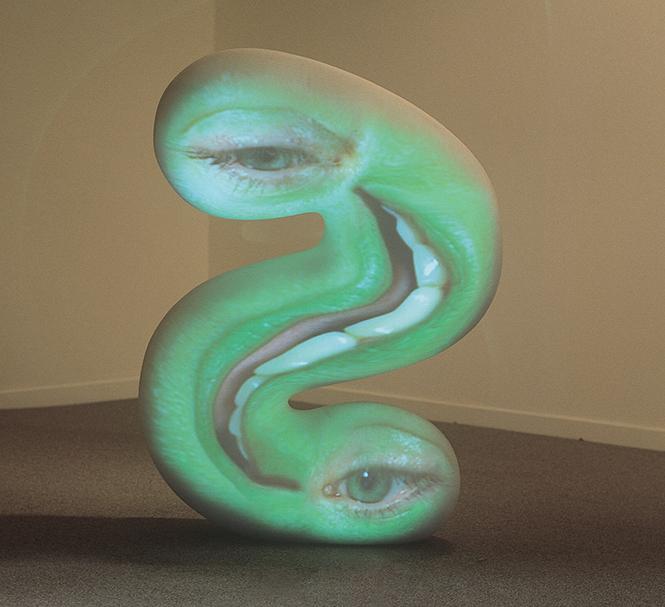 A quick jaunt to San Jose brought Out There many happy hours of art enjoyment. The San Jose Museum of Art is currently showing a handful of special exhibits, but in our opinion it was selections from their permanent collection that really stole the show.

"Almost Human: Digital Art from the Permanent Collection" showcases artists who use digital and other technologies such as virtual reality and AI in their work. As you'd expect from a museum set right in the heart of Silicon Alley, their collections of art created from new and emergent technologies are extensive, from the early days of computer electronics through the present future-is-now day.

"Rose Breathing" (2003), a 3-D computer animation of an animate blossom created by Andrea Ackerman, greets viewers with visual delight at the exhibition's entrance. "Memoria" (2000), an early video piece by Bill Viola, is an image of a man's face undergoing emotional changes, shot by a low-grade surveillance camera and projected onto silk cloth. It's low-tech but high-impact. "Info Glut II" (1997) by Alan Rath is an early example of the artistic employment of electronics. It uses cathode-ray tubes, of all ancient technologies!

But the knockout piece of "Almost Human" perhaps gives the exhibit its title. It's a fiberglass sculpture by Tony Oursler called "Slip" (2003), and it incorporates video of two human eyes and a mouth splayed across its surface so that the piece appears to be living and breathing as we encounter it. There's something about animated human features that compels attention and empathy, even when they come at you courtesy of a Sony VPL C55 projector. (Through Aug. 9, 2020.)

"Beta Space: Pae White" displays that LA-based artist's amazing crafts-based artwork, including a large virtuoso tapestry and a hanging mobile sculpture with the up-to-date title "Whistleblower." (Through Jan. 19, 2020.) "With Drawn Arms: Glenn Kaino and Tommie Smith" includes Kaino's large, impressive fiberglass, steel and wire sculpture "Bridge" (2014), a suspension of slats made from a series of cast sculptures of his arm giving a clenched-fist salute. "Speed City: Civil Rights to Black Power" examines the intersection of sports and black activism from 1960s San Jose, a worthy counterpoint to "Soul of a Nation: Art in the Age of Black Power 1963-1983" now at the de Young Museum in SF. Oakland-based artist Woody De Othello offers anthropomorphized sculptures that seem simultaneously human and animal, humorous and tragic. (All three, through Apr. 5, 2020.) San Jose Museum of Art, 110 South Market St., SJ. Info: www.sjmusart.org.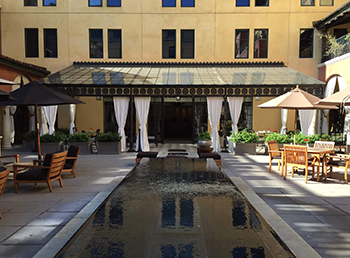 Hail Santana

We stayed overnight at the Hotel Valencia, a luxurious accommodation right on the Ramblas-style San Jose shopping and dining strip known as Santana Row. The street was strung with festive lights and hopping with visitors. Off the hotel lobby, three floors up, a bar and a restaurant overlook a Spanish-style courtyard with chairs and tables surrounding a sweetly flowing water feature. There's an outdoor pool six floors up, with chaise lounges, a hot tub and the San Jose sun burning warm enough to take a dip.

Our classic corner suite seven flights up came with a Juliet balcony from which we could stand, arms outstretched over the faux Ramblas, and sing a few bars of "Don't cry for me, Argentina!" were we that sort of person. That way we could invoke three Latin cities — Verona, Barcelona and Buenos Aires — in one Silicon Valley gesture.

The view was lovely, the suite was very nicely appointed, and dinner downstairs at the hotel restaurant Oveja Negra, an array of so-called "unruly tapas," was toothsome. From the land we sampled their signature lamb albondigas, from the sea we enjoyed garlic prawns, and from the garden we had patatas bravas, all washed down by some good Spanish wine.

It all reminded us we want to return to Catalonia. But in the meantime we'll be back, San Jose, California! Just try keeping us away. Info: hotelvalencia-santanarow.com.
Comments on Facebook