Netflix's 'Tiger King: Murder, Mayhem and Madness,' is the hottest show in America right now. But many other hit shows with LGBT characters (minus the murder, mayhem and well, a bit of madness) are either free online or available on subscription.
Viewing 1 thru 12 of 2121 Stories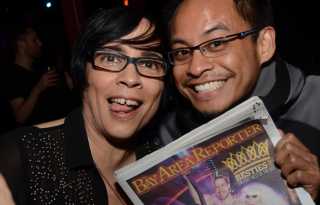 San Francisco is one of 11 US cities that is fortunate to have a legacy LGBT publication by us, for us, and about us. Help preserve the BAR as an historic and important community institution for the future.
This isn't our first pandemic. Herein we review the cream of the pandemic film crop, many of which can be found on various cable channels or streaming services.
When gay actor turned writer/director Mike Doyle's feature-length debut played the festival circuit it went by the terrible title 'Sell By.' Opening this spring, the movie is now called 'Almost Love' is so much better than either of its names.
'Bombshell," (just released on DVD) details the fall of Roger Ailes, the head of conservative cable Fox News, due to a sexual harassment lawsuit instigated by several star journalists working at the network.
The new relationship comedy "Straight Up" pokes fun at an old situation: an effeminate gay man attempts to date women.
Last week Out There went to see filmmaker Mark Bosek's new documentary "The Times of Bill Cunningham," about the late New York Times street photographer of the same name.
"Drag Becomes Her," a mad satire of the Meryl Streep/Goldie Hawn supernatural comedy "Death Becomes Her," promises to leave audiences in stitches.
In this neglected minor classic, immortal director Billy Wilder asks, "Was Sherlock Holmes gay?"
If fiendishly concocted escapism is what you hanker for right now, consider "The Burnt Orange Heresy," a highly entertaining new Italian melodrama opening Friday.
BAMPFA looks back at a studio's legacy with "Francis Ford Coppola and 50 Years of American Zoetrope," a two-part series that assembles films from 1963-2019 directed or supported by Coppola and the company he built.
"Greed" (opening Friday), from British director Michael Winterbottom and comic actor Steve Coogan, has Coogan playing an arrogant, knighted textile importer.
After the fireworks of the political season, the Castro Theatre offers a refreshing change of pace: a mix of contemporary and classic cinema, including tributes to Judy Garland and Kirk Douglas, who just left us at the exalted age of 103.
Viewing 1 thru 12 of 2121 Stories