Happy Blursday. When is that Zoom drag bake sale fundraiser string quartet? We'll do our best to delineate one event from another amid the midsummer maskness.
Viewing 1 thru 12 of 467 Stories
The QueerCore Podcast, hosted by August Bernadicou, elucidates radical, LGBTQ activists' dark histories. It is a spotlight on the catalysts who fought in the front-lines, in the back-lines and in the trenches of civil rights.
Fame came early for Brian Falduto, a child actor in 'School of Rock.' Falduto is now back in the limelight, albeit in a very different way. He's an LGBTQ life coach and Country music singer-songwriter.
A new scholarly project at Cal State Fullerton, created by Assistant Professor Eric Gonzaba, maps LGBT bars, cafes and hotels from the historic Bob Damron's Gay Guides.
The United States Conference of Mayors adopted a resolution urging Congress to provide long-term arts and culture relief funding in the wake of the COVID-19 pandemic.
It's rare that a non-fiction book as richly detailed as 'The Deviant's War: The Homosexual vs. The United States of America' (Farrar, Straus and Giroux) moves along at the brisk clip of Eric Cervini's new account of Frank Kameny's pre-Stonewall activism.
Four new and recent photos books celebrate Pride's decades of parades, celebrations and protests, in photos by Alyssa Blumstein, Fred W. McDarrah, Ron Williams, and from The New York Times archives.
Out in the Bay, the LGBT radio show and podcast, returns after a four-year hiatus. In its return episode, producer Eric Jansen hosts a discussion on LGBTQ responses to anti-Black violence.
On the heels of his record-breaking documentary, The Gospel According to Andre, André Leon Talley has published the tome, The Chiffon Trenches: a Memoir, a brave, stylish, naked look at the life and career of the grand, gluttonous eunuch of fashion.
This year hundreds of Pride celebrations have been canceled or postponed worldwide. In response, Out Leadership, the oldest and largest global LGBT+ Business network has created Proudly Resilient, 30 days celebrating the LGBT+ identity.
The latest Black Lives Matter street mural, created on June 12 by was painted on Fulton Street with a direct view toward San Francisco's City Hall. Photographer Gooch captured a unique angle when he and his husband participated in the painting event.
Seth Eisen's 'Out of Site: SOMA,' originally an outdoor performance work celebrating the South of Market neighborhood's LGBT history, has been moved online. The performances will celebrate a wide array of queer people who populated SoMa over the years.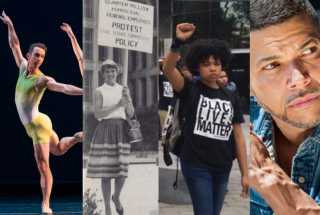 Amid protests and a pandemic, as Pride month gets underway, you can find a bit of relief with a rainbow of arts, nightlife and community events.
Viewing 1 thru 12 of 467 Stories