America's longest continuously-published and highest weekly circulation LGBTQ newspaper will celebrate its historic 50th anniversary edition to be published on April 1. Advertising space reservations for this special issue are now being accepted.
Viewing 1 thru 12 of 1373 Stories
Now in her seventh decade as an entertainer, Olivia Newton-John has proven herself to be a versatile artist, including recent duet with her daughter, and a recently published memoir.
In Brontez Purnell's deliciously voyeuristic collection of salacious vignettes, we are drenched in the sights, smells, sounds, and hedonistic delights of orgasmic connection.
In the tradition of 'Heather Has Two Mommies,' the first children's book featuring gay grandparents lovingly showcases extended family.
'Kink: Stories,' edited by R.O. Kwon and Garth Greenwell, is an anthology of 14 blazing, vivid stories that come together and make up a collection that plunges into different definitions of the multi-layered discipline of intimacy.
Reading 'All the Young Men,' Ruth Coker Burks' big-hearted memoir, brings that singular kind of consolation, and even joy, that comes with the finding of meaning in tragedy.
While some Castro businesses have closed permanently, one unique store has gained support from a devoted fan. AutoErotica, the longtime resource for vintage gay-themed sexy collectibles, has already raised more than $11,000 of its $16,000 fundraiser goal.
Media journalist Donovan Russo's debut novel, 'Steven's War' combines action-filled revenge with a coming-out story in the 'Don't Ask Don't Tell' era.
Noted radical social thinker and Columbia gender studies professor Jack Halberstam's reputation precedes him, and his new creative exploration of desire reinforces his thought process behind how human sexuality becomes attracted to everything "wild."
As Americans and people over the world heaved a heavy sigh of relief and joy with the Inauguration of President Joe Biden and Vice President Kamala Harris, one young poet stood out for her artistic contribution.
Author and filmmaker Jesús Canchola Sánchez's new bilingual children's book 'Pepito Has a Doll' challenges stereotypes about masculinity in teen boys.
The B.A.R. has been immortalized in films and TV series. But this is new; a poem about our famous 'No Obits' headline has been set to music.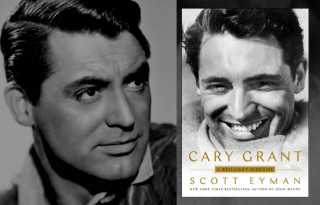 How small-town Brit Archie Leach became Cary Grant and how Grant finally assimilated that identity towards the end of his life, is the core of Scott Eyman's comprehensive, dense, meticulously researched, well-sourced, and probably definitive biography.
Viewing 1 thru 12 of 1373 Stories