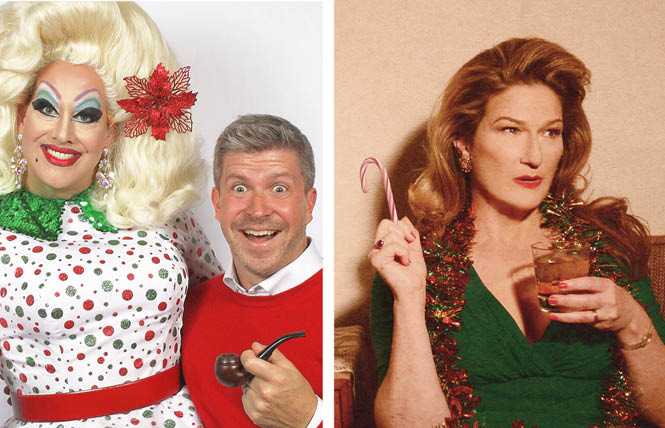 'Tis the season to be merry and gay! Co-emceed by conductor Edwin Outwater and drag sensation Peaches Christ, this old-fashioned holiday variety show guarantees an evening of festive fun and fabulous flair. Hear holiday hits played by the Orchestra, and b
Viewing 1 thru 12 of 11689 Stories
Celebrate holiday talents, wintry arts and more this week.
The San Francisco Gay Men's Chorus is riding high, preparing to celebrate the holiday season as they bring their annual extravaganza to the Sydney Goldstein Theater, followed by three Christmas Eve performances at the iconic Castro Theatre.
With "30/30 Vision: Three Decades of Strand Releasing," the venerable gay-owned film distribution company Strand Releasing celebrates its 30th anniversary in a special program at the San Francisco Museum of Modern Art on Thurs., Dec. 5.
Love it or loathe it, or something in-between, the holidays are here, and Christmas music is everywhere. Regardless of taste, religion, or lack thereof, music-lovers can still agree: a cozy concert helps cure the wintertime blues.
For a happily childless adult, Out There sure does see a lot of "family friendly" theatre and entertainment appropriate for children.
It's become the work of recordings to restore composer Reynaldo Hahn's work to the acclaim it warrants and almost inevitably brings.
Taking a San Francisco-spirited underground approach to seasonal programming, San Francisco Playhouse has exhumed the critically admired but short-lived recent stage adaptation of the 1993 Bill Murray film "Groundhog Day."
"We became inseparable," Robyn Crawford candidly admits in "A Song for You: My Life with Whitney Houston," even while her churlish mother Cissy, the most evil presence in the entire book, disapproved.
Each year it seems one faces greater challenges in finding the right thing for those on holiday gift lists. Books are a splendid solution to that dilemma. Superb choices abound.
Julie Andrews' "Home Work: A Memoir of My Hollywood Years" begins with her arrival in Hollywood in 1963 to make her screen debut in Disney's "Mary Poppins."
We spent Black Friday watching several hours of "The Great Christmas Light Fight" while crocheting scarves for holiday gifts. We came away with a burning question: Where are the crafty lesbians?
This year's Another Hole in the Head Film Fest, the 16th edition of a splendid little horror-film fest, comes with a distinctly queer accent: a queer feature and a handful of LGBTQ-themed shorts.
Viewing 1 thru 12 of 11689 Stories