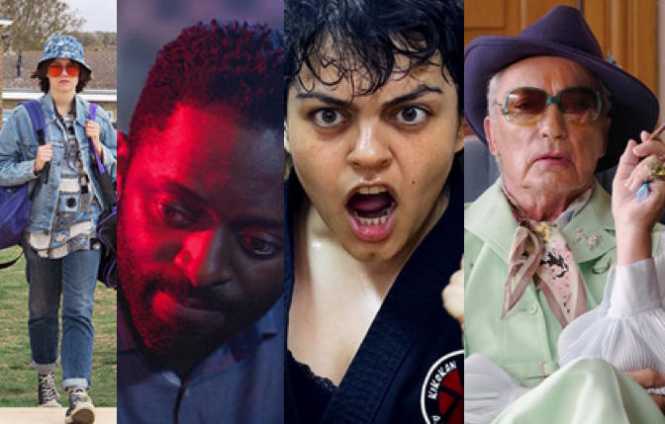 One idiosyncrasy of Frameline45 is that the international films are superior to the US/English language movies, especially because of their daring content. Check out our second batch of notable narrative films, including a few cinematic jewels.
Viewing 1 thru 12 of 2255 Stories
If you watched the new Netflix dramatized limited series, or the Amazon Prime documentary on fashion icon Halston, consider this rumination on those heady days when glamour created by a gay man ruled.
Turner Classic Movies will celebrate Pride Month with a special night of films by Jeffrey Friedman and Rob Epstein on Monday, June 28, including 'The Times of Harvey Milk' and 'Common Threads: Stories from the Quilt.'
While most of the documentaries in Frameline45 are very good, none are great. In a rare occurrence, the narrative features this year are stronger entries than the documentaries. But there are some standouts.
As Frameline celebrates its 45th anniversary, let's look back at coverage of their fifth anniversary in late June 1981, and the adult film advertised on the next page.
June is such an exciting month on TV. Everybody remember that LGBTQ people exist. Ad campaigns include us... until June 30, at midnight, when we are shunted into the background again. Catch the LGBTQ programs while they're viewable.
An award-winning actress, writer, activist, dancer, mother, singer, feminist, Latina and EGOT, Rita Moreno discusses her recent memoir and the new documentary about her amazing life.
Whether consciously or not, the theme of Frameline45, in its programming of narrative films, is traditional values, mainly home and family.
On June 18 filmmaker and film curator Jenni Olson will be honored with the prestigious Teddy Award, the Berlinale's queer film award, during the 71st Berlinale's Summer Special Festival.
Hundreds of fans attended Frameline45 and SF Pride's outdoor screening of the musical film 'In the Heights,' with several speakers and performers, on Friday, June 11 at Oracle Park.
The 29th Annual San Francisco Documentary Film Festival (through June 17) includes some LGBT-themed films. The star of this lot is 'Surviving the Silence,' already a candidate for one of the best queer documentaries of the year.
Now on display at the Chinese Culture Center of San Francisco (750 Kearny, inside the Hilton Hotel) is Women: From Her to Here, an exhibition of works by women from the Asian diaspora, many of them queer-identified.
Queer movie buffs will have to choose between attending two of San Francisco's LGBTQ film festivals on a couple of nights this Pride Month.
Viewing 1 thru 12 of 2255 Stories